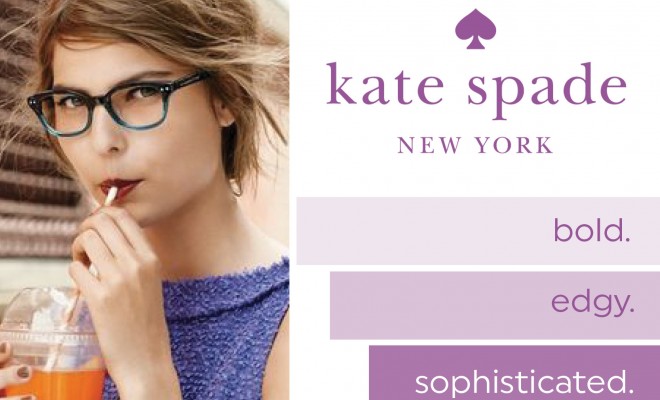 People
Kate Spade New York Gearing Up to Take Over the World
By
|
Kate Spade New York Gearing Up to Take Over the World
Back in 1993, a young designer had an idea for a handbag collection that every woman would love. That same year, Kate Spade Handbags was founded and the fashion accessory industry was turned upside down. Edgy and sophisticated, the handbags were an overnight success, and put Kate Spade on the road to becoming a household name.
In those early years in business, Kate Spade and her husband Andy put all of their creative energy into accessories, eventually opening a boutique in New York City's trend setting SoHo district. Handbags involved into personal organizers, stationary, shoes, perfume and then of course designer glasses, a collection which caught the eye of the fashion forward immediately.
Kate Spade New York Eyewear is manufactured by the Safilo group, one of the leading companies in the business of designing and producing fashion eyewear in the world. In addition to Kate Spade, they are also responsible for big name brands like Tommy Hilfiger, Marc Jacobs and Liz Clairborne. Putting the Safilo Group at the helm of the Kate Spade New York eyewear division guarantees that you are always outfitted not only in style, but with eyewear that is crafted with precision.
Kate Spade New York eyewear delicately invokes a feeling of the 1960's, while still being modern and chic. Like the rest of the collections under the brand, they are refined, using careful placement of tiny details to make you stand out from the crowd. You will find both sophisticated and fun styles in a range of shapes, colors and styles, all made to enhance the face that adorns them.
What is on the Horizon for Kate Spade New York?
As fashion houses still reel from the recent economic downfall, it came as little surprise when the floundering Kate Spade Saturday label would be closed in March. This was a lower priced label with a street wear flair that was never as successful as the other collections under the brand.
What does come as a surprise is the company's recent announcement that it will be expanding on its accessory roots, rather than continuing to try and forge new ground in clothing. While other labels like Donna Karen and Joe Fresh are slowing down their global ambitions, Kate Spade has just announced its plans to add an entire new array of collections. This will include leisure athletic clothing, sleepwear, a children's line, kitchen accessories and more.
Like with the Safilo Group for eyewear, Kate Spade has carefully chosen the partners to help in bringing their new collections to life. Among them is even New York City based Magnolia Bakery, whose cupcake masterpieces will be the inspiration for the images on a new line of pastry themed handbags and totes.
Known for being visionaries of fashion, the Kate Spade brand is making a bold move with their new ventures, and given their past successes, one that will likely prove to be fruitful for the company. If Kate Spade eyewear is any indication, expect great things from the brand as it continues its quest to rule the fashion accessory world.