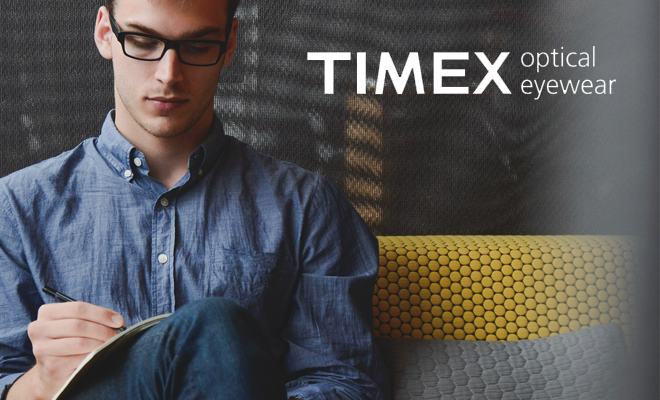 Trends
You Don't Know This About Timex Eyeglasses
By
|
Remember the old Timex ads that said, "Timex takes a licking and keeps ticking"? Timex watches were once as much a part of the wristwatch landscape as electronic timekeeping devices are today.
Did you know these facts about Timex?
Timex is nearly older than time itself. The company began in 1894.
The Timex Group includes the famous brands such as Guess, Salvatore Ferragamo, and Versace.
Timex once produced military watches — for about two months. Finding one of these treasures today is a rare occurrence, indeed.
So what does watch-making have to do with eyewear? The same company who gave you precision timepieces now makes precision eyewear.
Timex eyeglasses can fit your needs in terms of style, comfort, durability and price — just like the watches.
Style
You won't have to give up designer style with your Timex eyeglasses. Go traditional with the Timex X034 Eyeglasses in gunmetal or put on your sexy eyes with the Timex X037 Eyeglasses in teal.
These sultry looking eyeglasses are styled in metal frames with intricate design work and patterning along the temporal corners.The jewel tone teal flatters most hair and tones, and the gem-like color is hot, hot, hot for the fall.
The classic tortoiseshell pattern that is always in style is also available in Timex eyeglasses. Timex updated the print with oversized square frames — available in sunglasses, too.
Comfort
Good looks are only good if they are actually comfortable, too. A gorgeous pair of eyeglasses is useless if you can't wear them due to discomfort.
Timex eyeglasses ensure a comfort fit. Not only is there a wide array of eyeglasses for you to choose from, but you also can opt for adjustable nose pads and plastic-coated temporal guards on the wire frames. The plastic frames feel light on the face.
With either choice, you get eyeglasses you can wear all day.
Durability
Timex eyeglasses are available in two popular materials —metal and plastic. You will find three times as many metal Timex eyeglasses as plastic, largely because the metal frames tend to be more durable than the plastic ones.
Price
For less than you would pay for a nice dinner out for four people, you can get a good-looking pair of luxury Timex eyeglasses. Most of the eyeglasses frames are under one hundred dollars, which may make it possible to buy a couple of pairs of Timex eyeglasses for your vision needs.
Luxury looks on a modest budget — no wonder Timex has always taken a licking and kept on ticking. Turn to Timex for the style you love and the durability you want.