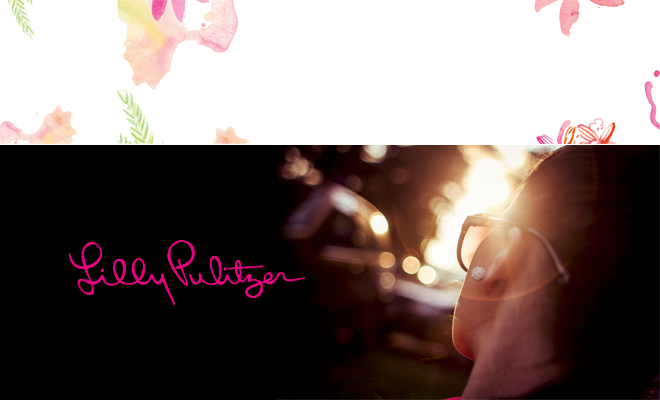 Trends
The Outlook is Bright with Lilly Pulitzer Eyewear
By
|
The best fashion designers have an iconic look. It's a flair for style that can be recognized anywhere, and it's as unique as painted splashes of color on an otherwise blank canvas.
The Lilly Pulitzer style is no different, partly because Lilly began her fashion line thanks to a few colorful accidents — splashes of color on her clothing, thanks to spilled juice. Back in 1959, when Lily was selling juice in Palm Beach, she wore dresses with hand-colored bold, bright prints on them in an effort to hide the inevitable juice stains.
It turns out the dresses were far more remarkable than the juices. Lilly's dress sales convinced her to give up the juice business and focus on what she did best: create pleasing and colorful prints that woman wanted to wear.
The designs Lilly began for the fashion world have now expanded to Lilly Pulitzer eyewear. These prescription eyeglasses and sunglasses are designed with the same bold colors and patterns you expect in anything designed by Lilly Pulitzer.
In the Lilly Pulitzer eyewear line of optical glasses, favorite frame styles include square, rectangle, modified round and, of course, cat eye frames. But the one style most girls and women seem to prefer is the modified oval frame. There are hundreds of options from which to choose, largely be this frame style looks fantastic on most face shapes.
There's more to Lilly Pulitzer eyewear than just great frames, though. You can take advantage of incredibly rich and diverse color choices, like the Lilly Pulitzer Witherbee Eyeglasses in indigo tortoise, The square frames bear a unique purple tortoiseshell pattern and the temporal arms are a solid purple. Aqua tortoise is another popular choice in the Witherbee style.
Young girls especially love the vibrant color choices found in Lilly Pulitzer eyewear. Choose from ocean green, fuchsia fade, cherry pink and more. Where else can you find Topanga Bubble Gum eyeglasses?
It's not too late to get those summer shades you need, too. Lilly Pulitzer eyewear gives you oversized sunglasses frames like the Maren style, with wide temporal arms and round frames, or the Meridiene, with French style cat eye frames in pink tortoise. You can't help but feel summery in these sunnies.
Count on this luxury designer eyewear for more than color and design; these eyeglasses are well made accessories available in metal or plastic. Both materials convey the same sense of summer fun with bright prints and bold patterns.
The outlook is bright with Lilly Pulitzer eyewear. This designer's flair for fashion continues to flatter and please girls and women all summer long — and beyond.