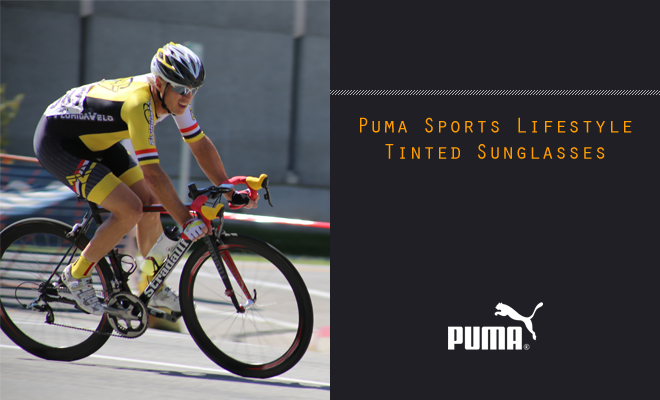 Trends
Puma Sports Lifestyle Tinted Sunglasses to Improve Your Game
By
|
The right gear is everything when you compete in sports. Everything from the shoes you wear to sunglasses you don can have an impact on your performance.
Knowing what to select for your equipment needs is critical to your game, and so is having the right pair of tinted sunglasses.
Athleticism and street smart chic team up with Puma Sports lifestyle tinted sunglasses. The devotion to your success doesn't stop there, however. Puma gets it — you want more than durable gear. You also have to have the stylish good looks that are found only in luxury designer eyewear when you pick out your sunglasses, and these sunglasses have to be versatile.
The Puma Sports lifestyle tinted sunglasses give you the versatility you need.
Let's face it. No one pair of sunglasses will perform consistently in all types of weather conditions. Why take several pairs of sunglasses with various tinted lenses with you when a single pair of Pumas will do?
Many of the Puma shield style sunglasses feature interchangeable lenses. This is a boon to your arsenal of sunglasses, because you can select the right tinted lenses for each situation.
For example, the Puma PU0004S Sunglasses 00Z0LG01 have a futuristic looking black frame that sweeps across the brow and it outfitted with a singular shield-style lens. This sunglasses model comes with two tinted lens colors — amber and pink. You'll find the amber lenses to be an excellent choice when playing golf because you can actually distinguish between the fairway and the water hazard.
Worried about eyestrain? In a matter of seconds, you can switch your amber lens to the pink one. Bicyclists may benefit greatly from the pink lens because this color blocks blue light and increase the contrast between objects.
The Puma PU0001S Sunglasses BBBBBC41 in blue feature a wider frame and brow line. These sunglasses have been outfitted with two lenses instead of the single shield lens, and they come in purple and yellow.
Use the purple lens to reduce glare, especially during inclement conditions such as fog or snow. The yellow lenses are most appropriate for those times when you're out running during dawn and dusk.
These aren't the only frame and color choices you have. The frames are available in a variety of colors, and you can choose among clear or colored lenses. Puma allows you to customize your sunglasses in a variety of ways. Ultimately, Puma Sports lifestyle tinted sunglasses will have you ready for any activity you can think of, and they'll do it in style.
You don't have to play sports when you wear Puma Sports Lifestyle Tinted Sunglasses, but people will think you do.