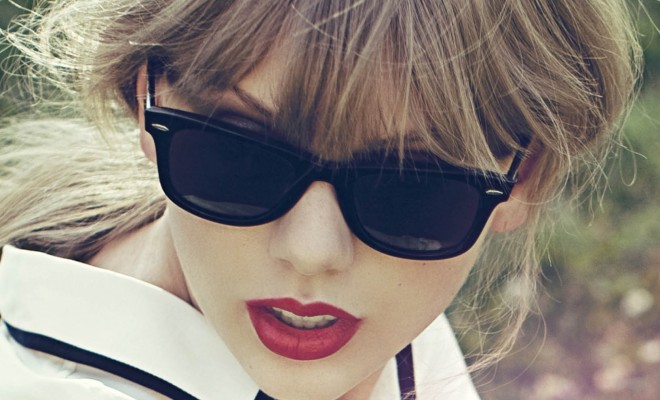 People
Duplicate Taylor Swift's Look with These Luxury Designer Sunglasses
By
|
Duplicate Taylor Swift's Look with These Luxury Designer Sunglasses
Musical pop star Taylor Swift is recognized for her retro style as much as she is for her music.
Taylor Swift is as unafraid to wear vintage styles of horizontal stripes or polka dots and starlet red lipstick as she is to sing about prior relationships gone bad. Swift sports bangs, headbands and some of the most iconic luxury designer sunglasses ever made, too.
You can duplicate her style by wearing designer luxury sunglasses like she does. Here's what you need for you own Taylor Swift look.
Wayfarers
Taylor Swift is a huge Ray Ban fan, and you will find her in authentic black wayfarer luxury designer sunglasses. She wear these sunglasses a bit oversized so that they not only cover her eye area, but also so that they hide her eyebrows from view as view. The realist? You focus on her sunglasses and red lips; everything else is left to mystery.
Of course, Taylor Swift wears plenty of other Ray Ban styles as well; she's a collector of luxury designer sunglasses, and Ray Ban has a variety of frames to fit her needs. Be sure to also grab a pair of red Ray Bans — they are some of Swift's favorites, and they look great with that red lipstick.
Cat Eyes
Is there anything that purrs "vintage" better than cat eye frames? Taylor Swift doesn't think so, and she frequently were cat eye frames when out and about. The pointier, the better.
Get the Taylor Swift retro look with these throwbacks to the fifties. Cat eye luxury designer sunglasses have resurged in popularity over the past few years because they are fun and flirty.
For sunglasses that will have you looking like the songstress herself, try the Kate Spade KS Genette Sunglasses in black. These beauties have the definitive brow line you love, delicate and feminine rims, and the inside of each temporal arm bears a striped pattern.
Prints
Wearing prints can be fun, and there are a variety of ways to wear them. The Dolce and Gabbana DG 4216 Sunglasses 2789G in black featured a prettily patterned print on the inside of the frames.
Your prints can be on the outside too, like in the Dolce & Gabbana DG 4116 Lace All Over Sunglasses 19028G in white sunglasses. Imagine wearing these sunnies with a spaghetti strap sundress, a light cardigan and one of your favorite scarves tied over your hair, for the ultimate Taylor Swift look. 
With a little creativity, some bright red lipstick and a few pairs of luxury designer sunglasses, you can easily recreate the look of Taylor Swift.