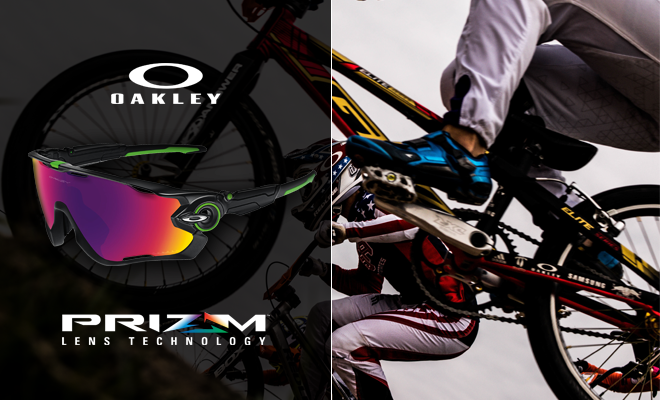 Trends
Oakley Sports Sunglasses with Prizm™ Lenses Make It to the 2016 Olympics
By
|
When sporting performance matters the most, your sunglasses have to keep up with your every move, whether you are on land or in the water.
You train hard. You work out consistently regardless of what kind of day you've had, how you feel or what else might be on your calendar. That kind of dedication and relentless drive needs the kind of gear that will stay with you, both protecting your eyes and enhancing your vision.
Oakley sports sunglasses brings you the highest level of quality with their Prizm™ lenses. You can choose from six unique lenses that will give you six opportunities to excel. The Oakley sports sunglasses with Prizm™ lenses are destined to take the gold medal of sporting excellence.
They are the Team USA eyewear choice for the 2016 games in Brazil.
Prizm™ Road
The lenses have been specially designed to help you see the road better by cutting the glare that hinders your vision.
With the significant glare reeducation, you can distinguish and smooth and rough surfaces more easily, whether they are due to road wear and tear of debris that doesn't belong there.
With these lenses, you can avoid the kinds of road hazards that slow you down. They're perfect for long-distance runners and cyclists.
Prizm™ Trail
The gold and amber colors of these lenses provide sharp contrast for you. You'll want these lenses if you jog or hike through trails or enjoy cycling, especially mountain biking.
Images are more sharp and distinct thanks to the Oakley sports sunglasses with Prizm™ lenses technology.
Prizm™ Golf
When you're on the green, you want blue and lavender lenses because these two colors can help improve your vision. Can't tell the rough from the fairway? Does the green look just like the tee box to you?
Your ability to improve your golf score may just depend on well well you can differentiate between the various areas on the course.
Prizm™ Field
The baseball diamond and the soccer field have something in common. They both require acute vision because you want to see what's coming at you, especially if it's traveling better than a hundred miles an hour. These lenses give you clear and distinct vision in bright light.
Prizm™ Water
When you are sport fishing, you need to see what's on your line, and you also need to see what else is going on in the water. While these lenses won;t give you x-ray vision, they will help you see whites more clearly, blues more brightly and green and copper in a way you've never seen before.
Prizm™ Daily
These are your daily driving lenses because after all, if you're not playing sports, you're on your way there or back again.
Get in a little Olympic action of your own with the Oakley sports sunglasses with Prizm™ lenses.
When your performance depends on it, you can depend on Oakley sports sunglasses with Prizm™ lenses. Team USA does.