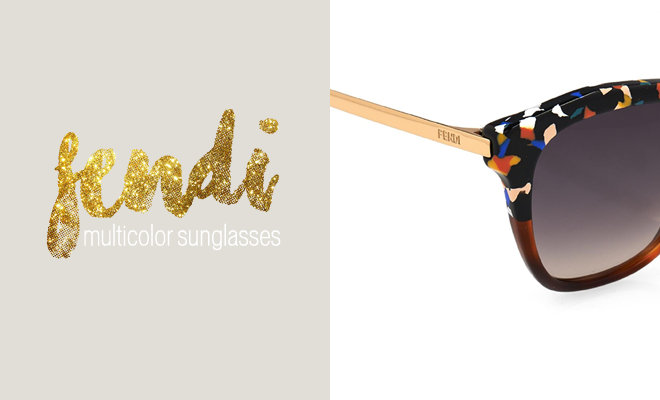 Trends
Fabulous Fendi Multicolor Sunglasses
By
|
Just because you've put away your beach towels, covered up the summer sports equipment and put you hammock away for the season doesn't mean you have to put summer behind you completely.
There's still plenty of opportunity ahead to enjoy the fabulous colors you love so much, and Fendi is ready to lead the way.
Those energetic colors you love so much during long days and short nights can still be yours the rest of the year, if you know where to look and how to add them to your wardrobe palette.
Even though the days are becoming shorter, you'll still need to wear sunglasses to protect your eyes, but your eyewear needn't be as drab and colorless as four day old snow along the curb of a busy street.
Get out your Fendi multicolor sunglasses and let the fun times begin!
You can count on the Italian designer Fendi to give you spectacularly shaped frames in vibrantly rich colors.
The Fendi multicolored sunglasses are made from some of the finest handled acetate, and creating these stunning frames is no quick process. Folding in the varying hues to create patterns in hand rolled acetate can take several years, and Fendi isn't a designer willing to cut any corners in producing your quality frames.
The Fendi FD 0089 Sunglasses 0CUA in Multi Havana Gold represent some of the best in craftsmanship and design. These Fendi multicolor sunglasses frames are a cat eye frame fleck with bold blues, golds, oranges, cream and green against a havana print. The temporal arms offset the bright colors with their gold tone metal.
You're going to need more than one pair of sunglasses.The same style of Fendi multicolor sunglasses is available with red flecks against white acetate frames and neutral colored flecks against ruthenium frames.
Fendi enjoys playing with color in their accessories as much as you enjoy wearing their colors. No wonder, with combinations like honey cherry havana, spotted havana blue, vintage amber and honey crystal, to name just a few options. Fendi is fearless when it comes to color combinations in their luxury designer sunglasses frames made of the finest aged acetate.
You'll appreciate wearing the exciting colors of Fendi long after summer gone. Your Fendi multicolor sunglasses may be just the thing to add a little zest and excitement to your day.
Bringing bold color into the fall and winter is just another way you can express your fabulous self.
And when it's this fabulous, it's Fendi.