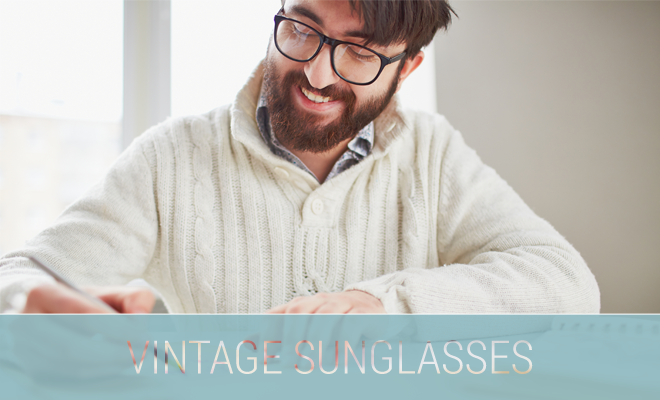 Trends
Vintage Style Sunglasses for Today
By
|
The person willing to wear vintage style set himself or herself apart from everyone else. There's a sense creative independence in anyone who loves a little retro, whether that shows in their home furnishings, their wardrobe and even their accessories.
Right now, favorites include pieces from the 1960s, 50s and even 40s. People have fallen in love with these decades from the past for many reasons: great style, quirkiness, timeless design, real attitude.
You can find similar characteristics in vintage style sunglasses, too. These fab pics from the past are favorites for designers who love to re-interpret a former trend and bring it to the forefront again.
The bonus to getting reinterpreted vintage styles is that your luxury sunglasses are made from modern materials designed that can be more enduring. They'll stand up to modern challenges while giving you the retro look you want.
So where can you find those fab vintage style sunglasses from today's fashion designers?
Begin with Ralph Lauren vintage style sunglasses. The RL collection of acetate square frames in Havana style prints will afford you plenty of vintage options from which to choose. These frames are classics that suggest elegance and class, and they earmark you as someone who understands great style.
Next, try on Kate Spade sunglasses for a little quirkiness in your eyewear. The Kate Spade cat eye frames are some of the most fun vintage style sunglasses you'll find. They're also sexy accessories you'll love wearing.
No one produces timeless design better than Persol. The folding sunglasses, which available in yellow, Havana or black frames, give you the retro look you love and the convenience of folding style sunglasses. Compact and contemporary, these vintage style sunglasses will remind you an older time when the folding sunglasses first became a novelty.
Some of the sunglasses with the most attitude came from Ray Ban in the 1950s when this American designer of premiere eyewear created the Clubmaster frames. These sunglasses came right after the iconic Wayfarer sunglasses that also were known for their "bad boy" style. The Clubmasters were half plastic and half metal rims, and they made any wearer stand out in a crowd.
A fantastic pair of vintage style sunglasses can be a good investment for your eyes, too, because most of today's sunglasses are polarized to give you added protection against harmful UV rays. Besides that, those retro frames are going to look good.
A lot of people see the value in vintage, you can recreate a vintage with the right vintage style sunglasses for today.