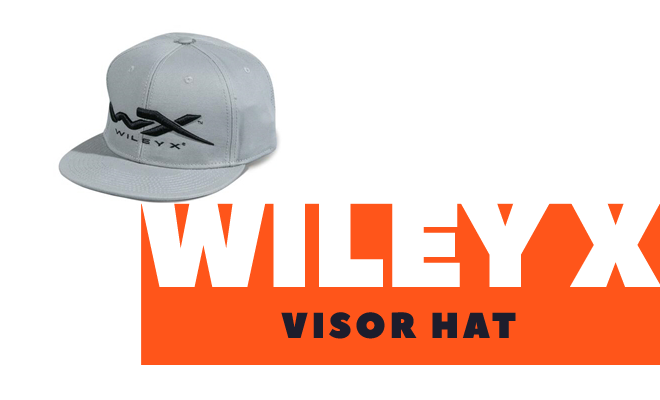 Trends
Where's Your Wiley X Visor Hat?
By
|
A lot of people will tell you that, no, they don't wear hats, and they have good reasons for their decision not to wear a hat.
They don't want hat hair, or the visor doesn't look right, or they don't like the logo on the cap.
What some people don't realize is that there will always be that one time they wish you had a good hat, especially one with a visor. You can be ahead of the curve by having your Wiley X visor hat on hand for those times you've got to cover your head.
Whether you want to shield your eyes from the sun, protect your face or you're just trying to minimize a bad hair day, your Wiley X visor hat may just become your go-to choice of apparel. These caps are also great for long hair because you can thread your ponytail through the opening at the back or clip your hair in a loose bun that serves to keep your hair out of your way and hold your hat tightly on your head.
First of all, Wiley X offers several visor hat styles for you to choose from. The mesh cap features a lightweight woven fabric that breathes better than other fabrics. This Wiley X visor hat is an excellent choice for warmer weather when you're not going to want to retain heat.
The unisex fitflex caps from Wiley X are chic caps in black fabric bearing the Wiley X logo along the crown. They look great on just about anyone, and they're the right choice for a good deal of leisure wear, whether you're on the golf course, at the shooting range or on a skateboard.
The Wiley X WX Hats Visors Hat Wx 3d Cap Snapback Flatbill in grey is a one size adjustable hat. It's the only hat in this brand available in a color other than black. The dove grey gives the hat a unique and mature look, and it stands out out among the other Wiley X caps.
Although the grey snapback hat is a one size fits all hat, be sure to purchase your other Wiley X Visor hats according to the size of your head for the best possible fit. A cap that's a little loose is far better than one that's too tight and gives you headaches.
There's nothing like a Wiley X Visor hat to get your through your day, and you'll be glad you have one on hand. Wiley X makes wearing a visor hat great again.