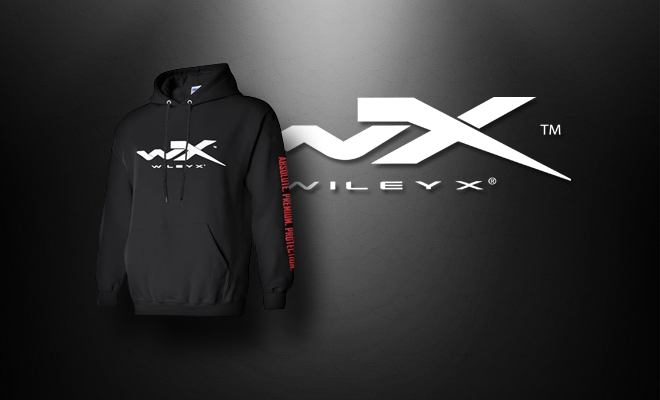 Trends
Fall into the Wiley X Sweatshirt
By
|
When it's time to grab your weekend gear and go for a casual look that wears well, it's time for WIley X.
With the cooler temps — and downright cold temperatures in some places — you've got to have clothing that will keep you warm and still allow you freedom of movement to do the things you do outdoors.
That's where the Wiley X sweatshirt comes in.
This sweatshirt is a tough-guy or tough-girl choice for those who like to get outside to work and play hard. This Hanes sweatshirt will go where you go, and it will keep up regardless of how you choose to work or play. It's as strong as you are.
Layered over a simple cotton tee or sandwiched between a shirt and your black leathers, the Wiley X sweatshirt is a great choice for versatile weekend wear. You'll find that the 50/50 cotton/poly blend is the right combination to wear comfortably and wash well, time after time. This fleece-like sweatshirt will not only soften with each washing, becoming ever more supple, but it also will retain its shape and color.
The sweatshirt is available only in black, but it's the Wiley X color of choice that complements every one of their products, whether you've chosen Wiley X eyewear, safety goggles, or gloves.
A traditional fixed hood and drawstring cord make adjusting your comfort on windy or cold days a breeze. The ribbed cuffs and hems on this sweatshirt keep cold air out and your body warmth in. You'll appreciate the pockets in the front because they allow for easy access to whatever you stow there. They're also a great place to warm your hands on those chilly days when you don't want to don gloves.
The Wiley X sweatshirt features the famous Wiley logo emblazoned in white across the chest, and the sleeve features the Wiley X A.P.P. tag line in red on the left sleeve: Absolute. Premium. Protection.
Like all Wiley X products, this sweatshirt gives you absolute premium protection; in fact, it's the best you'll find in hooded sweatshirts. And it doesn't hurt that it looks tough, too. Strong. Powerful. Like the person wearing it.
As reliable and comfortable as the Wiley X prescription eyewear and sunglasses are, you'll love that the Wiley X Sweatshirt is every bit as comfortable and tough.
You can count of this being one of your go-to Saturday favorites, and you may find yourself wanting to wear it all the time. This autumn and winter, fall into the Wiley X Sweatshirt. You'll be glad you did.
It's tough enough to wear anywhere. Soft enough to make you want to. That's the Wiley X sweatshirt.