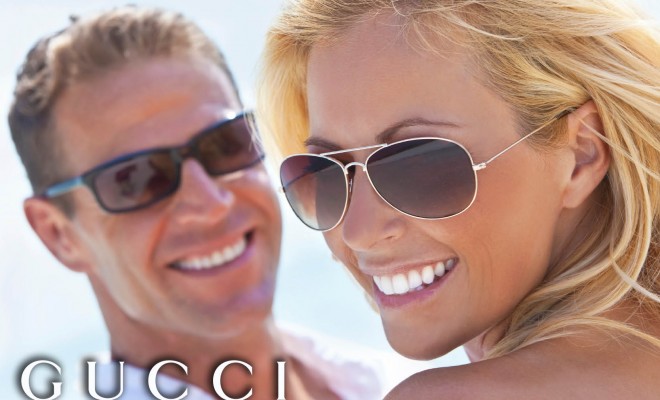 Posts
Featured Designer Eyewear Brand – Gucci Sunglasses
By
|
Featured Designer Eyewear Brand – Gucci
For glamour or sport fashions, Gucci has been the luxury designer of choice for nearly a century. Like so many other high fashion designers, Gucci cut its design teeth on luxury good such as traveling cases before graduating to fashion wear and the accessories that coordinate with it.
No wonder Gucci designer eyewear is a coveted fashion accessory; Gucci has decades of experience in developing innovative fashion made from the highest standard of quality. With Gucci, you get sophisticated good looks. The attention to product detail is something you will notice in every pair of designer eyewear from Gucci.
Well-known for their glamorous haute-couture marked by the iconic double G logo and their sport line identified with a "weave" of green and red, Gucci offers something for every taste.
Gucci understands that your eyewear must be as attractive as it is practical. Each year, the clothing of Gucci inspires its accessory lines, and here you will find some of the trendiest designer eyewear in optical and sun choices.
Optical eyewear frames include a variety of shapes such as the aviator, cat eye, oval and oval modified, rectangular and round. You also have a variety of choices of metals and plastics for the frame materials, and some frames, such as the modified oval combine Havana print acetate frames and metal bamboo-style temporal arms for a unique and fashionable look.
Gucci's sunglasses selection is just as remarkable as their optical designer eyewear.
This season's hottest trends in sunglasses showcase bold frames of acetate or more demure frames in metal. Look for intensely rich frame colors that replace the dramatic prints of 2015's summer eyewear, such as splashy florals. The daring colors of spring and summer, such as ombre-toned lenses of mint green and lavender, have given way to charcoals, browns and ambers more appropriate to fall and winter.
If classics are more your thing, Gucci has your eyes covered. Their designer eyewear styles allow you to choose between classic aviators fitted with the standard sweat bar at the brow and gold lenses or round-framed sunglasses with acetate frames and metal double bridges. Gucci sunglasses for men offer deep and rich hues of cobalt blue, purple and charcoal for the lenses, but lighter pastels such as gold, blue and mint are also popular.
Gucci makes more than a pretty pair of eyewear for the sun; Gucci sunglasses provide 100% eye protection from UVA and UVB rays.
Designer eyewear from Gucci is made in Italy by Luxottica. No matter which sunglasses or optical eyewear you select, you will be getting a well-made pair of eyeglasses.
Whether you are a fan of the Gucci weave or Gucci glamour, your Gucci designer eyewear will fit your lifestyle.