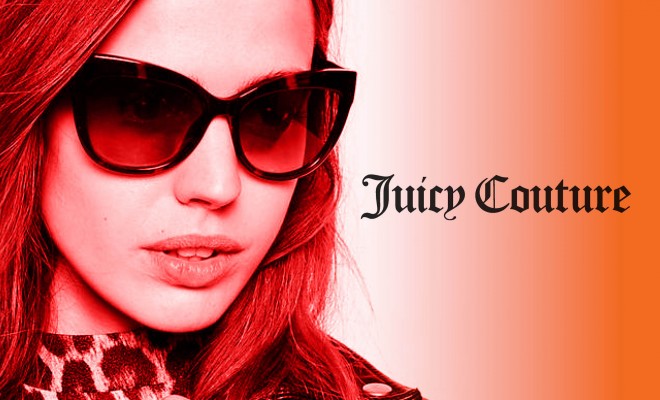 Trends
Featured Designer Eyewear Brand – Juicy Couture
By
|
Featured Designer Eyewear Brand – Juicy Couture
If you saw a way to solve a fashion dilemma for women everywhere, you might want a fabulous friend to help you along the way with creativity and spontaneous fun. Your choice of business partner would be critical to the company's design. She'd have to be witty, have a great sense of humor, and be smart, too.
What better way to have fashion fun than with your BFF as your creative designer and business partner?
That's how Pamela Skaist-Levy and Gela Nash founded their Juicy Couture brand of luxurious designer wear and accessories. Although they have since sold their company, the Juicy Couture brand lives on in youthful reinterpretations of classic and contemporary style for vibrant lifestyles. You can see this playfulness in their interpretations of their Juicy Couture designer eyewear.

If your approach to fashion is one where you don't take yourself or your style seriously, your lifestyle focuses on fun, and you love luxury, Juicy Couture is your designer brand. The Los Angeles, California, design house of Juicy Couture designer eyewear allows you to express your fun-loving personality like no other eyeglasses and sunglasses designer.
Who loves fun the way you do? Celebrities who have been seen wearing this brand include Eva Longoria, Amanda Bynes and Britney Spears
Whether you like mixed material frames, prints, bold colors, whimsical designs or classic styles, Juicy Couture gives you enervating choices in Juicy Couture designer eyewear. Juicy Couture is known for casual wear that features expressive innovation in style.
Aviators – Traditional teardrop frames in fresh lens colors have matching temporal arm guards, but the real surprise is the work Juicy written along each temporal arm's length for serious style with a sense of fashion fun.
Cat Eyes – For retro style with unmatched pizzazz, try two-toned cat eye sunglasses. The frames are black on the outside and carnation pink on the inside, creating a sense of playful flirting. Juicy Couture also makes Mod Cay Eye sunglasses in delicious upgrades such as Tortoise blush, which is a feminine twist on a classic pattern.
Wayfarers – For the epitome of coolness, look no further than the Juicy Couture Wayfarer Classic; these frames and their temporal arms are the same color. This designer eyewear brand also makes solid frames with patterned temporal arms.
The Juicy Couture brand also offers oversized frames in other spectacular shapes for those times when you want big style and unfettered fun.
LA style can be yours. It's time you show off your true personality by bringing fun and spontaneity back into your accessories. It's time for Juicy Couture designer eyewear.