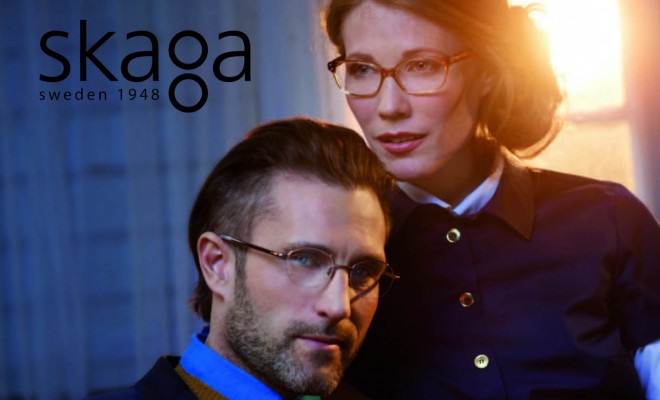 Trends
Featured Designer Eyewear Brand – Skaga designer eyewear
By
|
Featured Designer Eyewear Brand – Skaga designer eyewear
Some of the designer eyewear options for your frames scream,  "Look at me, look at ME!" Their opulence takes center stage, and they are the star of your wardrobe, regardless of what you wear.
These specialty frames stand out all on their own, and the person wearing the darling eyeglasses or sunglasses is noticed as an afterthought. Sometimes, that's exactly what you want.
Outrageous frames that attract attention aren't always what you need for everyday use; they are the taffeta and organza that you wear on special occasions, not the jeans or corduroys you wear most of the time. You need everyday eyewear that meets you at your point of lifestyle comfort.
We get that you want Saturday-morning-cozy-frames, the kind that are practical and functional – completely unaffected, without the drama or the excessiveness. Of course, it would be nice if the the eyewear frames were flattering as well.
Skaga designer eyewear to the rescue!
This Scandinavian luxury eyewear designer gives you the natural look and feel of optical eyewear based on simple abstract design that is fresh and incredibly practical, without sacrificing luxurious quality.
Profoundly flattering, the frames from Skaga give you masculine minimalist design that is simultaneously classic and contemporary. For example, the bi-tone Skaga 2500-U JUSSI Eyeglasses in black feature a light-colored, natural-looking wood tone on the interior of the frames, with a wood tone band inserted at the temporal corners. These rectangular frames silver on classic style with sustainable contemporary materials.
Skaga also designs eyewear for women. Keep in mind that functional and practical eyewear can also give you abstract style with bold splashes of color, as found in the Skaga 2506-U Eyeglasses 306 in Petrol. The glacier blue color creates a striking contrast for every skin tone and hair color.
Skaga designer eyewear creates luxury frames in cellulose acetate, customized zyl and titanium for hypoallergenic and lightweight fit. You'll be able to choose from frames in oval, round and rectangular shapes, and there is a vast selection of rectangular frames.
You'll want these reasonably priced luxury eyeglasses frames from Skaga for your daily lifestyle fashion. Like you, they are bold, contemporary and practical.
The clean and fresh lines of Skaga designer eyewear have appealed to Scandinavian wearers since 1948; you can make them part of your style, too. You'll still get all of the high-end luxury, without pretentious affectations or style that usurps your look.
After all, why should your eyewear be your most prominent fashion feature? This year promises to be one of unaffected accessorizing, with simple Scandinavian design from Skaga designer eyewear brand.