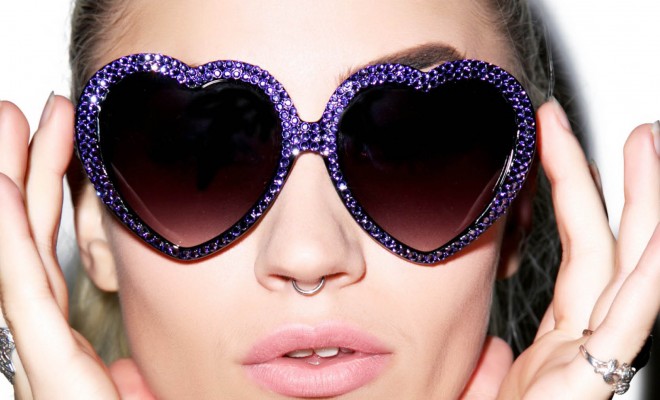 Trends
Featured Designer Eyewear Brand – Swarovski Sunglasses
By
|
Featured Designer Eyewear Brand – Swarovski Sunglasses
Go big or go home!
It's an expression reserved for those people willing to live extravagantly and experience all the richness life has to offer. There's no place for wallflowers with this attitude when you are ready to seize every day, enjoying each moment to the fullest.
With a motto like "go big or go home," you likely will find yourself more apt to be the center of attention. While you don't necessarily seek out this idolization, you don't mind it, either. Can you help it if you love luxurious items, like hand crafted designer eyewear?
There's nothing like Swarovski designer eyewear to help you make the right statement about your attitude.
How do you know if you are a Swarovski fan? You are not afraid of over the top design, and there's no such thing as too much sparkle. You love well thought out style, flamboyant embellishments, and authentic distinction in your eyewear.
Think Lady Gaga, Paris Hilton and Cheryl Cole.
The crystals embedded in the frames and temporal arms of the Swarovski eyewear are the brilliant cuts for which Swarovski is well known. There is no richer color and no flashier glint of light than the hues reflected in authentic Swarovski crystal.
Well-crafted style in this designer eyewear doesn't stop there. The designers at Swarovski maximize the latest in fashion with frames that accent your style and complement your look. Not every pair of eyeglasses from this designer is over the top.
You can find Swarovski optical eyewear and sunglasses frames in a variety of creative shapes and designs as well as more traditional colors and shapes, too. Try sporting classic-looking Havana Eva glasses that are trimmed at the temporal corner with an elegant band of gold metal.
Swarovski designer eyewear offers temporal arms embellished with metal inlays and patterned finishes, as well as frames in ombre colors or chiseled edges that look as though they were hewn from precious jewels.
Getting the bling you deserve is easy.
First, choose between high quality acetate or metal for your Swarovski frames. Next, determine the shape you are looking for; you'll find a plethora of sumptuous square frames and provocative cat eyes frames from which to choose. Finally, select your color and the right amount of embellishment that says you know how to go big or home, just like the stars who wear these frames.
What could be better this holiday season than to be recognized as the glitterati at any festive event? You could be, in your Swarovski designer eyewear.