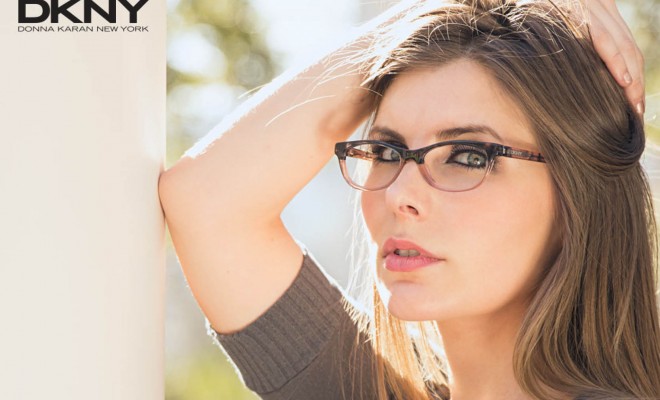 Posts
Featured Eyewear Brand – DKNY Designer Eyewear
By
|
Featured Eyewear Brand – DKNY Designer Eyewear
Step out in DKNY luxury designer eyewear, and you have stepped into a world where fashion accessories not only look good, but also function the way you need them to.
The DKNY fashion brand begun nearly four decades ago by Donna Karan and her husband Stephan Weiss was created to solve the challenge of putting together complicated  fashion pieces — something for which the busy modern woman had little time.
The idea behind DKNY was to create fluid pieces of couture fashion that could transition easily from day to night or even weekend, with the addition of the right accessories.
This same philosophy holds true in DKNY luxury designer eyewear. The optical eyewear and sunglasses available to women and men give you an easy style that coordinates well with your style for any event you have in mind. Whether you are running errands, working on a project at the office or playing a little softball with your buds, DNKY has eyeglasses and sunglasses frames that will go where you go.
Your life consists of more than just one thing; you don;t just go to work — you lead a busy lifestyle that takes you to different places throughout each day in your week, including weekends. DKNY luxury designer eyewear — both prescription frames and regular sunglasses — is meant to transition just as easily as you do.
Take, for example, the DKNY DY 4664 Eyeglasses 3678 in Havana print are a flattering cat eye frame that accents the eyes with a youthful look. The acetate frames are designed to fit comfortably on the face, and the classic light golden brown print is just as appropriate for evening ear as it is for the day time.
For an oversized optical eyewear frame that suggests wisdom and depth of knowledge for the wearer, try the DKNY DY 4666 Eyeglasses 3675 in brown. The cognac-colored hue creates a soft yet distinct look on face, and these phantos frames look as powerful in your Monday morning meeting as they do on Saturday afternoons when you dig back into that novel you've been trying to finish.
For sunglasses, the DKNY luxury designer eyewear comes in a variety of materials, shapes and colors to suit your outdoor needs for protective eyewear that looks as good as it performs. If you are ready embrace the lighter colors and whites of warm weather, try the DKNY DY 4123 Sunglasses 366411 in white.
Regardless of your DKNY selection in luxury designer eyewear, you'll find fashion at an affordable price.
Many fashion and budget conscious eyeglasses and sunglasses wearers find that the DKNY luxury designer eyewear suits their needs perfectly. You may join their leagues when you order your own pair of DKNYs.