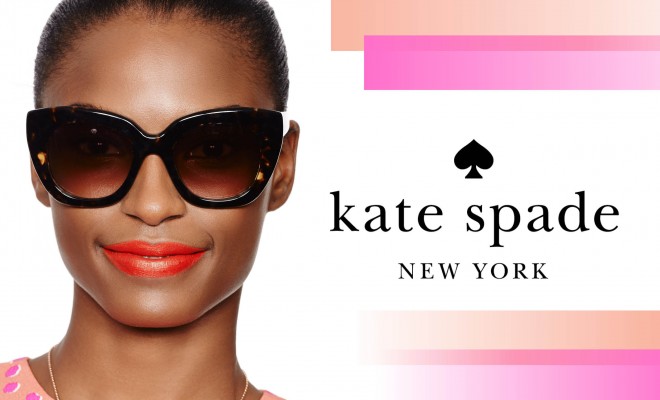 Trends
Featured Eyewear Brand – Kate Spade designer eyewear
By
|
Featured Eyewear Brand – Kate Spade
If you want sophisticated style in your accessories, Kate Spade is your answer. There is perhaps no fashion designer who not only understands the need to take accessories from drab to delightful while maintaining a sense business decorum, but how to make it happen.
Small wonder, since Kate Spade began her fashion career as Mademoiselles' fashion accessories editor and has since grown her brand into a line of global lifestyle fashion.
Kate Spade designer eyewear may be one of the hottest trending accessories for eyeglasses and sunglasses among savvy young business women. They are the kind of high end but affordable accessories that anyone can wear and use on a daily basis. You'll enjoy this eyewear when you are out to lunch and on weekends, but they are equally appropriately at work.
Kate Spade fashion attracts modern and sensible women of fashion, and Kate Spade designer eyewear delivers the kind of fun you want in your accessories. You can expect the right pops of color presented in a classic way that doesn't make you look like a throwback to the 1980s; wear your Kate Spades, and you'll rock contemporary urban style at its best.
Whether you like the timeless aviator style of sunglasses, or you prefer something more modern, like pillow or tea cup frames, Kate Spade fashion has what you are looking for in modern eyewear.
Kate Spade designer eyewear is also about cat eye sunglasses done right. The Amberley and Kaylee lines of luxury sunglasses are provocative pieces of eyewear you'll want to be seen in every time you head outdoors. Keep up with seasonal trends of color with the Kate Spade Brigit Sunglasses in floralescent pink or the Kate Spade Shira Sunglasses in rose jade.
If you prefer a more classic style for your optical eyewear, try the Kate Spade Catrina Eyeglasses in camel tortoise. Trimmed at the temporal corners with bands of gold metal, the frames and the rest of the temporal arms are honey gold tortoiseshell color that is so flattering on every face.
For reinterpretations of enduring frames styles in optical eyewear, look for a variety of shapes that meet your need to look great while having a bit of fun with color. This color sometimes appears on the external sides of the temporal arms, and other times, you may find frames with bold color, especially in prints, on the inside of the arms or frames.
Your Kate Spade designer eyewear will have you smiling, and why not? You not only look sensational, but you also spent wisely on luxury designer eyewear.
Kate Spade designer eyewear is feminine, flattering and fashionable. Best of all, there's a pair optical eyeglasses or sunglasses for every woman.