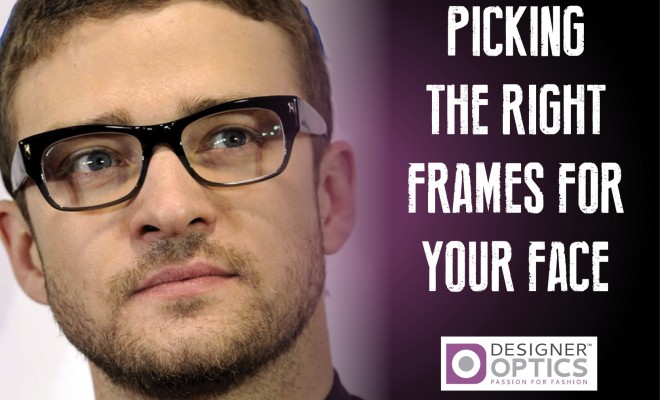 Trends
For Men's Eyes Only – Picking the Right Frames For Your Face
By
|
When it comes to choosing something that is going to play front and center on your face, you guys have to stop messing around. Not every frame fits a man the same way, but if you know the shape of your face and choose the right frame to frame it, you can enhance your physical attributes and look dashing 24/7.
Your Face is Square If:
You have a strong jaw line with an angular chin and a prominent forehead. The length of your face is roughly the same as the width, which gives you a sort of box-like look that needs some softening. Think: Ashton Kutcher of 2 and 1/2 Men.
You Should Wear Glasses That:
Soften up the strong lines a bit. This is best done with horizontal lenses that are surrounded by barely there wire frames. A soft tint will also help tone down your blazing masculinity. If rimless is too fragile for you, try oval or circular frames but in lighter colors that will keep the look soft.
Your Face is Round If:
It is also the same width and length, but there are no angles to distinguish it. Your cheeks are typically fuller, and other facial features appear delicate. If you are not careful in your style choices, your face will make you appear to be a big softie. Think: Country Singer and "The Voice" Judge Blake Shelton
You Should Wear Glasses That:
Have angles, like rectangle shaped frames. These will add length to your face, while high temples can help make the cheeks seem slimmer. Avoid squares though, since overly sharp angles will just emphasize how round your face really is.
Your Face is Oval If:
Your chin is more narrow than your forehead, and your face seems perfectly proportioned. This is the most common face shape for men, characterized by high cheekbones and a prominent chin. Think Jude Law of 2009's Sherlock Holmes
You Should Wear Glasses That:
Don't imbalance your perfect proportions. To look your absolute best, the frames should be broader than the widest part of your face. But with your chiseled facial structure just about any frame shape will work.
Your Face is Shaped Like a Heart If:
You have a very wide forehead with high cheekbones and a strong jaw line leading to a narrow chin, almost like an upside down triangle. The contrasting harsh and soft features of your face can sometimes make it difficult to find a frame that you are comfortable with. Think: Pop Music Icon and Part Time Actor Justin Timberlake
You Should Wear Glasses That:
Balance out your wider forehead, such as round frames or those that are wider at the bottom than the top. It is not easy to find a shape that complements all of the elements in a heart shaped face, so also consider subtle wire frames or rimless glasses.
Remember these tips in the summer time too, as the same rules apply for your choice in designer shades. So long as you know your strong facial points, you will be able to pick the right frames to complement them.