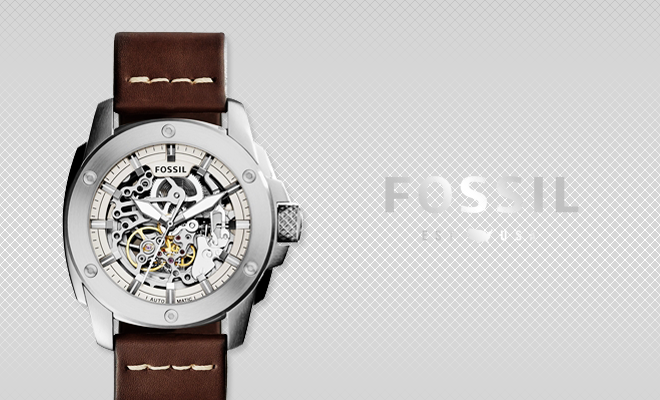 Posts
Fossil Leather Strap Watches Define Cool
By
|
Are you done with tech envy yet?
Tech envy is that relentless cycle of needing the newest technology, standing in line (physically or virtually) for it, getting it and within months repeating the same cycle again.
Repeating it, that is, until you are saturated with tech trends and you realize just how uncool tech envy is.
Sometimes, all you really need is to know the time. You don't want the interruptions that can come with technology; you want peace and quiet, simplicity and unaffected good looks.
That's where Fossil leather strap watches come in.
Fossil has been making premium watches for some time, and while there are many styles from which to choose, the Fossil leather strap watches say everything about you.
Don't think these precious accessories antiquate you. The Fossil watches of today offer some of the finest example of modern watchmaking technology.
Take the automatic Fossil Modern Machine ME3083 Watch for example.
This is a round, smooth-bezel stainless steel watch with incredulous attention to detail. The oyster-colored open face reveals the intricate workings of the gears inside the watch. You can view the movement of your timepiece as it ticks off each second of the day. The luminous dials and marks for the hours of the day will help you read the time regardless of how dark it may be.
You keep the watch wound with the movement of your wrist, but you'll need to wind it manually should you decide to take the watch off for a few days.
And that leather strap? It's ruggedly masculine, with contrasting stitching against an espresso brown strap. This strap will wear beautifully with time, becoming softer and worn, much like your other favorite accessories made of heritage style leather.
Best of all, this modern machine watch will endure all of your robust adventures as long as you don't wear it swimming.
Other Fossil leather strap watches include the Townsman, with Roman numerals around the face and the Idealist that compliments professional attire.
Women too, can enjoy these watches with two styles of the Jacqueline watch; one has a large face and the other a much smaller face for petite wrists.
Your wristwatch says a lot about who you are, and the Fossil leather strap watches speak of your casual, laid back style. Natural. In the moment. Definitely cool, and definitely way past tech envy.
Giving up the relentless cycle of tech envy means that you can focus on what's really cool: returning to wearing a wristwatch and Fossil leather strap watches.