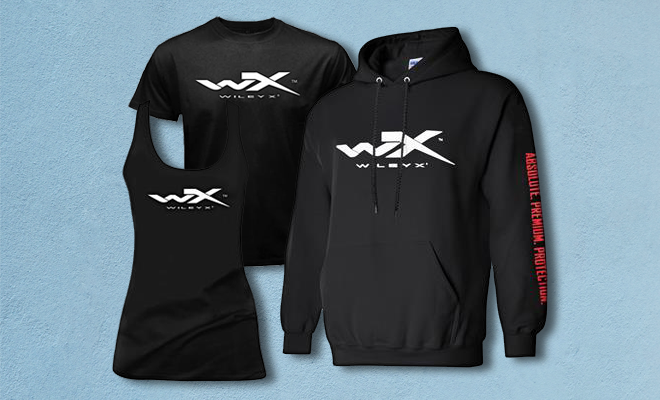 Posts
The Naked Truth about Wiley X Tanks, Tees and Sweatshirts
By
|
It's crazy out there.
Autumn has officially arrived, and while some places have already experienced their first snow of the season, other spots are as warm and balmy as ever. There are location that have been experiencing temperature swings of thirty and forty degrees as the day dawns and then shifts into high gear.
That can make deciding what to wear a difficult task especially for on your days off when you don;t expect to be in a climate controlled building all day.
When you want to be outside and ready for anything, you want Wiley X apparel on your side. If you love your Wiley X sunglasses and optical eyewear, you'll fall in love with the Wiley X tanks, tees and sweatshirts.
The Wiley X brand means comfort and ruggedness. Those Wiley X tanks, tees and sweatshirts will wear like you want them to because they are made from cotton blends that go the extra mile just like you.
Tanks
You know how there's nothing worse than donning a tank top, but you look like one of the guys in it? Wiley X tanks have been designed with women in mind, and these shirts have been cut so that you get a sporty look without sacrificing femininity.
They achieve this look by creating larger arm openings so you can show off your toned shoulders and arms, and the racer back looks sporty but feminine.
The tanks are made from cotton jersey for optimal comfort and fit, and you'll love wearing these alone or under another shirt.
Tees
The basic black t-shirt can't get any better. By declaring your loyalty to and affinity for Wiley X, these shirts give you superior comfort, fit and wear.
You know how you have that favorite t-shirt that you like to wear all the time because it's finally worn in and comfortable. The Wiley X t-shirts feels that way from day one.
Maybe that's because of the cotton-poly blend, or maybe it's because of the webbed neck line that helps the shirt hold its shape.
One thing is for sure — you'll want to wear it all the time.
Sweatshirts
The Wiley X sweatshirt is just as comfortable as the other products, with its ribbed hems, fixed hood and drawstring cord. Made from super comfy fleece, this shirt takes off the chill.
The Wiley X tanks, tees and sweatshirt will meet your needs in creating the layers you need as your day goes from fifty degrees outside to ninety and back again within a twenty-four cycle. Regardless of the external temperature, there's a Wiley X tank, tee or sweatshirt for you.
The front of each shirt carries the Wiley X logo, and the back says, "Absolute. Premium. Protection."
Now you know the naked truth about Wiley X tanks, tees and sweatshirts.