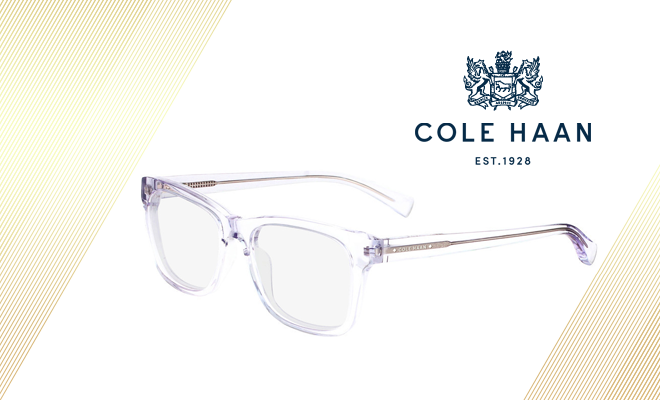 Trends
The Fresh Look of Cole Haan Crystal Eyeglasses
By
|
Cole Haan style is all about luxury. Well-made luxury.
For nearly ninety years, Cole Haan design has designed the modern man and woman and dressed them with the best in artistic quality and superior materials.
You would expect nothing less from their top-of the-line accessories as well, and this includes Cole Haan eyewear.
Excellent quality demands superior design that keeps up with the contemporary world of today, too.
When you want a fresh, contemporary look for your eyewear, turn to Cole Haan crystal eyeglasses. This rich-looking frames exude luxury and craftsmanship, and they offer you the kind of impeccable style that says twenty-first century modern.
While Cole Haan eyewear offers frames in tremendous patterns like soft tortoise and and solid colors like the masculine oxblood, it is the Cole Haan 4008 series that brings a summer freshness to prescription eyeglasses.
The Cole Haan crystal eyeglasses 4008 series consists of bold, square frames of acetate. The acetate lends itself well to a colored translucency that may remind you of fresh watercolors. These classic frames suggest a deep intellect lies just behind the glasses, and the crystal colors show that you don't take yourself too seriously.
The color infusion process creates the freshness that comes about when just the right of light glints off the frames. Unlike opaque frames that allow no light to pass through the acetate, these crystal frames accentuate most faces and hairstyles.
Choose from imaginative and flattering colors like crystal olive, bordeaux, sand and more.
Can't commit to a particular color? Try the Cole Haan CH4008 Eyeglasses 971 in crystal clear frames. These icy cool frames complement any wardrobe choice, from workplace professional suits to uber-casual weekend wear.
Getting the Cole Haan crystal eyeglasses you want is easy; in fact, they are affordable enough that you might find yourself with several pairs.
You can also continue your fresh style and expand your Cole Haan crystal eyeglasses collection to include some of their crystal sunglasses. The purple or the sand crystal sunglasses are especially appropriate for afternoons at the club or the marina.
Regardless of the Cole Haan eyewear you select as an accessory for your wardrobe, you are getting the same elite luxury you expect from the Cole Haan line of designer wear. Your eyewear, whether they are prescription eyeglasses or casual sunnies, is made of high quality acetates selected for their durability color retention.
It doesn't get any better in contemporary luxury and exquisite style.
Get fresh. Get your Cole Haan crystal eyeglasses today.