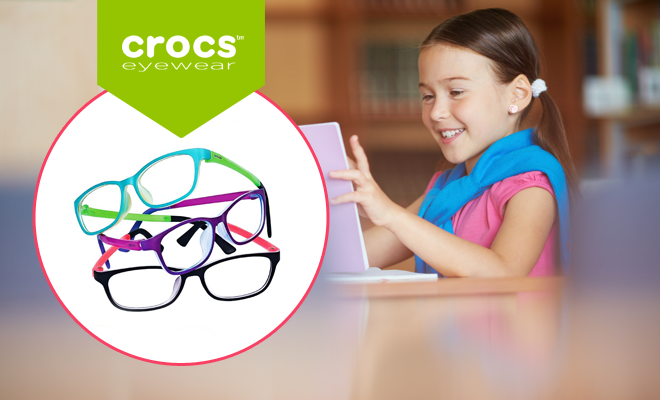 Trends
Have Some Fun with Crocs Prescription Eyewear
By
|
Who said accessories – especially prescription eyewear – have to be boring?
Your eyewear can be as vibrant as you – full of energy and color, and ready to make a statement about your relaxed and fun personality with Crocs prescription eyewear.
You love Crocs for their comfort and durability, and you'll probably feel the same way about your Crocs prescription eyewear. Although the eyeglasses are made from traditional plastic instead of the foamy rubber material you might be used to wearing on your feet, these eyeglasses are every bit as comfortable as you'd expect.
All of the Crocs prescription eyewear frames are a lightweight plastic with static nose pads that won't get snagged on clothing or tangled in your hair. This is particularly important for kids, because sometimes adjustable nose pads are too fragile for their active lifestyles.
In terms of color, think fresh and bold. Crocs is not afraid of color, and you shouldn't be, either. You can choose from color combinations like raspberry and lemon, purple and fuschia, and ocean-blue, aqua and lime. Don't worry, though, you can also find neutral colors if you prefer those. Choose from black, wood tones and grey. Select your favorite color combination or choose accent colors that complement your wardrobe.
Crocs prescription eyewear gives you vibrant colors single color frames, two-tone frames, and frames with a third color on the inside of both the frames and the temporal arms.
Most people look great in rectangular frames, and you'll find plenty of options for your rectangular frames from Crocs prescription eyewear. There are large rectangle frames and true rectangles, so you are sure to find the exact shape that looks best on you.
Crocs also offers frames that have temporal arms set a little lower than at the temporal corners of the frames. This variation in the frame lifts the viewing area of the lens up just a few centimeters, positioning the top of the frames slightly above the eyebrow. Other frames place the top of the lenses at the eye brow.
Your new Crocs will arrive with demo lenses, a carrying case and cleaning cloth.
Colorful Crocs eyeglasses are both fun and affordable, making them perfect for kids and adults alike. It's possible to enjoy several pairs of these eyeglasses, all in a variety of eye-popping colors. What could be more pleasurable than to sport a little fun color?
Enjoy a little pleasure today with your Crocs prescription eyewear.