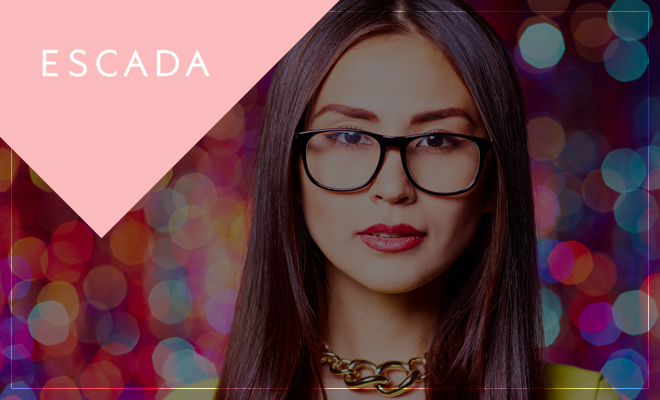 Trends
Sexy Escada Acetate Eyewear to Complement Your Style
By
|
Contemporary style that is fluid and sexy because of sensual lines, rich color and great design.
Escada presents international fashion that is as timeless as it is classic in design, making sure that today's trends are tomorrow's timeless masterpieces in the world of fashion accessories. Nowhere is this more true than in Escada acetate eyewear.
Sunglasses
Escada acetate eyewear stands head and shoulders above the competition with their designs and frames. These gorgeous sunnies come in an array of styles and colors.
Feelling flirty? Try the cat eye sunglasses, especially the 403s. These feline frames are a bold mix of acetate and metal, with exaggerated frame corners and whimisical temporal arms of mixed materials. They come in rich, dark tones like espresso, but the winter white frames are perfect for the upcoming cold seasons.
Escada also offers pilot style sunglasses, and in this line of Escada acetate eyewear, the acetate is along to temporal arms. In the 862 aviators for example, you'll show off a double bridge made of forged links in gold metal, and larger links make up the temporal ends of each arm until they are met with havana printed acetate that makes up the rest of the arms.
Optical eyewear
You'll find Escada to be the right choice for your prescription eyewear needs, whether you spend most of your time in the workplace or at leisure.
The 319s lend themselves well to virtually any face shape. These softened rectangule frames will compliment your face and your hair with their rounded corners. For a little wider lens, opt for the 318s, which are similar but slightly larger.
Acetate lends itself well to prints, so you can expect to enjoy not only havana and tortoise style prints, but polka-dots, wood grain prints and more.  That's all part of the Escada style.
So is the attention to detail at each of the temporal corners. Escada adds visual interest to every pair of their prescription eyeglasses to make the style as unique and interesting as you are.
The acetate in Escada optical eyewear is lightweight enough to be comfortable all day.
Escada is the prefered designer of many of the royal women in Europe, including Crown Princess Victoria of Sweden and Sarah, Duchess of York. Other celebrities like Jessica Alba, Mandy Moore and Carrie Underwood have been spotted in Escada as well.
No doubt they appreciate those sexy, timeless designs that speak of sophistication and elegance. You can get that same sense of style in your Escada acetate eyewear.