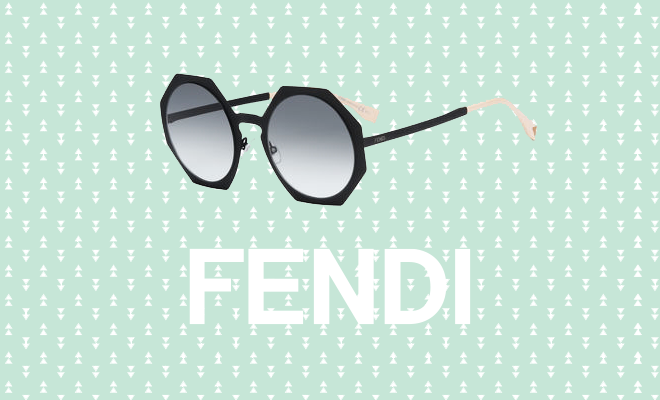 Trends
Geometry is Easy with Fendi Geometric Sunglasses
By
|
Remember studying mathematics? It seems like most people either loved taking geometry or they despised it. There's something about the perfect geometric shapes, defined by clearly delineated theorems. Geometry explains how objects fit together in our world.
Think of it this way: a box or cube is really defined by geometric proofs. The particular arrangement of the faces, corners and angles make up what you have come to recognize as a box.
Leave it to Fendi to think outside the box. Outside the frame, really, with spectacularly shaped eyewear.  Their designer sunglasses frames in exciting geometric shapes may be unlike anything else you've seen.
When you are done with mundane sunglasses like those you see everyone else wearing and are ready to show off your avant-garde style, then you are ready for Fendi Geometric Sunglasses.
Fendi Geometric Sunglasses speak to your wild sides with creative hexagonals and adventurous cat eye frames. The hexagonal Fendi FD 0152 sunglasses frames accent the face and draw immediate attention to the eyes. You'll find these frames available in the matte black so popular this side, and they are tipped on the temporal ends with a nude colored plastic. You can also order them in a scrumptuous matte brown or spotted havana.
For a less adventurous look, try the Fendi FD 061 cat eye frames for your sunglasses. Their feline, sexy appeal is captivating.
These frames take advantage of the effect you get when juxtaposing triangles and circles. Imagine round frames flanked with a hexagonal design that is offset at the temporal corners with interpretive triangles for an exotic look.
The hexagonals and cat eye frames are the only shapes in the Fendi Geometric Sunglasses, but Fendi offers many more frame choices in stand alone categories like   ovals, rectangles and circles.
Again, you benefit from the same fine attention to design and detail. Only Fendi explores playing with shapes within shapes, creating a layered look that is both attractive and unique. Add colors like peach and amber to prints like honey havana or olive havana, and the result is a one of a kind stand out pair of sunnies that can't be mistaken for someone else's.
A pair of round Fendi Geometric Sunglasses like the Fendi FD 0066X brown and green frames give you an asymmetrical color splash that establishes you as fashion-forward connoisseur of the best in sunwear eye protection. You know your sunglasses.
Wendi knows sunglasses, too. The name Fendi is synonymous with daring fashion, and there's nothing more daring than Fendi Geometric Sunglasses. It's about time that geometrics make sense.