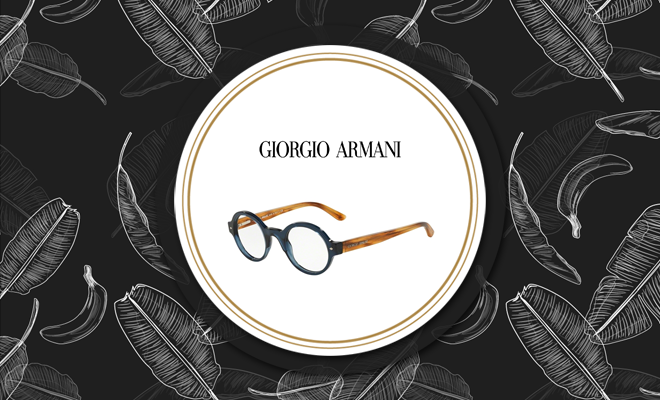 Trends
Getting Around to Giorgio Armani Round Prescription Eyeglasses
By
|
You know those round optical eyewear frames? The ones made legendary by famous men like John Lennon and Elton John? They are still as popular as ever, especially the Giorgio Armani round prescription eyeglasses, in both metal and plastic frames options.
Known for classic design, simple and clean lines, Italian designer Giorgio Armani knows how to help you look your best. When you wear Giorgio Armani, your look is unaffected, simple and true. This is certainly true when it comes to your accessories, especially those you have to wear every day, like your eyeglasses.
Simple and unaffected doesn't mean inferior, though. When you demand luxury in everything, especially your eyewear, you're ready to turn to Giorgio Armani.
A great pair of Giorgio Armani round prescription eyeglasses can be seen in the Giorgio Armani AR 7068 Eyeglasses 5358 in blue. These stunning frames are thick plastic frames in a deep indigo (what Giorgio Armani calls transparent blue) and flanked on either side by temporal arms sporting a light reddish oak color. The combination may remind you of leisurely days on the water in a vintage Chris Craft boat.
The Giorgio Armani round prescription lenses give the wearer a sense of confidence in manner and style. These thicker, more profound frames are one of the hottest fashion trends in men's eyewear right now.
Not everyone can pull off the style of heavier round frames, though. You are not going to want something that overpowers your face because your facial features are the first thing you want people to see. Your Giorgio Armani round prescription eyeglasses have to complement your look.
Those men for whom a suit is the uniform of the day may find themselves yielding to corporate dress code norms that dictate no flashy accessories — including eyewear. When less is more, opt for metal rims that keep it light.
When choosing metals frames, you can select from gold, silver, bronze/copper, gunmetal and black frames. There's just enough color to add visual interest and a little definition around the eye, but not so much that it overpowers your suit — or the corporate norm.
The most discreet Giorgio Armani round prescription eyeglasses can be found in frames like the Giorgio Armani AR 5059 Eyeglasses 3006 in bronze/copper. These frames offer the right touch of structure, with the matte bronze frame running along the bottom of the round lenses. These prescription glasses suggest the wearing has discerning tastes, knows what he likes and prefers classic style over trendy fashion.
Wearing Giorgio Armani round prescription eyeglasses should be the easiest part of your day. The right frames can have you ready to tackle the world.