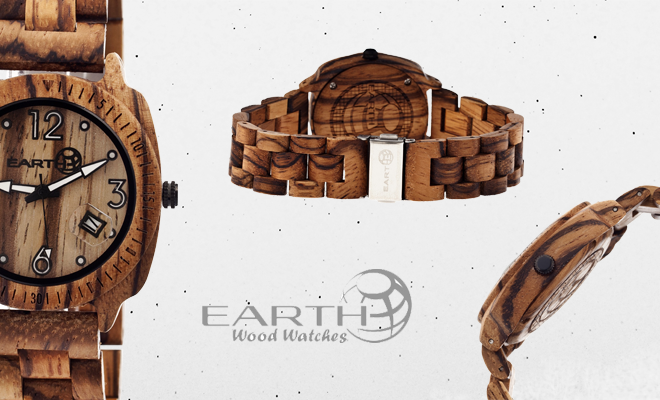 Trends
Make Your Eco-Unique Statement with Earth Wood Luxury Watches
By
|
Conscientious shoppers consider the environment. They worry about plastic bags in landfills, using resources that are unsustainable, and manufacturing processes that add unnecessary pollution to the water, the land and air.
How what you buy has been made is just as important as the product itself, and certainly this is true when you buy a premium time piece.
There's a sense of classic, timeless style in a timepiece that wraps around the wrist. Even with all the time-telling technology available in the world, there's still reason to revert to a traditional time piece. A well made watch is more than a timepiece. It's a piece of luxury jewelry, handcrafted from one of the most sustainable, organic materials in the world — wood.
The beauty inherent in every Earth luxury wood watch is that every piece is unique. No two watches can be alike because no two cuts of wood are the same, not even from the same tree. There's no more highly individualized watch you can wear than a wooden watch.
Every Earth luxury wood watch has been designed to feature the best part of the wood — the grain. The grain is the wood's life story continued in a prized timepiece you wear every day.
Olive, red, blonde, ash and brown woods make up the watches in the Earth collection of fine luxury timepieces, and these richly grained woods are found in the faces, bezels and wristbands of the watches.
These watches are just as appropriate in the urban jungle as they are in the 'burbs and beyond. They are an especially appropriate choice for more than just the tree huggers in the world. If you are sensitive to metal or plastics used in watches, natural wood may be just what you need.
The Earth EW2302 Indios Watch is a cinnamon brown wood with heavy streaks in the wood grain. It's a bold choice for intrepid adventurers ready to take on the world in comfort and style. This unisex analog watch features Arabic numbers at the 3, 6, 9 and 12 positions on the face, and both the hour and minute hands are white for a real contrast and easy visibility against the darker wood. The clasp deploys with a simple push of a button.
You'll love the watch for its uniqueness — there is no other timepiece exactly like it — but you'll wear it for the comfort.Earth luxury wood watches are on fleek — they are just about the most perfect watch you can acquire.
Those who look for genuine quality and beauty find it in Earth luxury wood watches. as the Earth brand says, it's "nature on your wrist." Everyone else will recognize it as your eco-unique statement.