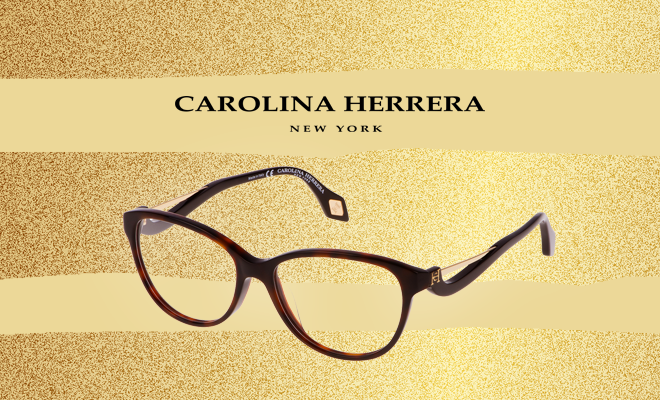 Trends
Go for Elegance with Carolina Herrera NY 551 Eyeglasses
By
|
Go for Elegance with Carolina Herrera NY 551 Eyeglasses
There are times when your eyewear has to set the same professional tone as your demeanor. Whether you are working with clients, giving a report or working in front of a larger group of people, what you wear in the way of eyeglasses is every bit as important as what clothing you wear.
Wearing the wrong optical eyewear can be as much of a faux pas as wearing socks with sandals. It's functional, but distracting.
What you need is the kind of professional looking eyewear that softens your look with minimizing your professionalism. The Carolina Herrera NY 551 Eyeglasses are feminine eyewear will strong lines, and they are a professional asset as your standard accessory.
Carolina Herrera NY 551 Eyeglasses lighten the severity of the traditional black optical eyewear fames by playing with fluid lines and adding interesting details along the temporal arms.
The frames themselves are suggestive of the iconically feminine cat eye. The glossy black finish suggest a polished, well put together look.
It's the temporal arms, however, that add the pizzazz to this eyewear from the Venezuelan-American designer who has deservedly earned many accolades for her design savvy. Carolina Herrera created an arm that curves downward from the temporal corner and then sweeps back up to the ear.
A thin silver edge reaches from the temporal corner across the dropped line of the arm and connects at the point the arm reaches up to the ear, creating a silver and black ribbon effect along the side of the face.
A silver CH marks each temporal corner, and the temporal arm guards feature a silver diamond with the same engraved initials.
The Carolina Herrera NY 551 Eyeglasses are available in other colors and versions as well. For example, if you want to stay away from black, try the 551s in shiny green horn. The frames are a rich horn brown flecked with suggestions of green. The frames are also available in dark havana.
Carolina Herrera doesn't stop there, however. This same design is so popular that it's also available to you in sunwear. Imagine the 551s redesigned as sunglasses — complete with the same shiny black frames and ribbon-like silver and black arms, and you have the Carolina Herrera NY 546 sunglasses.
You can also try a version of these sunglasses recreated in a fashion forward aviator frame of gold metal, brown lenses and the arm sweep you love.
The Carolina Herrera NY 551 Eyeglasses give you style that is as feminine as it is professional. With these elegant eyeglasses, you'll feel as confident as you look.