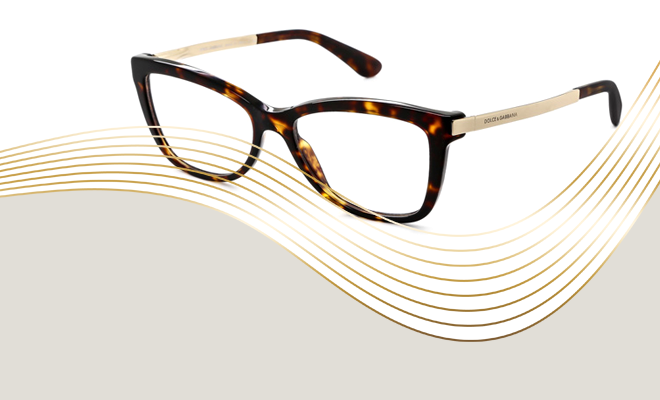 Trends
Go for Real Drama with Dolce & Gabbana Optical Frames
By
|
Your optical eyewear is the one accessory that can define who you are faster than even a piece of fine jewelry. People may notice your necklace, earrings, bracelets and rings. They'll notice your hairstyle, too, but everyone pays attention to the eyeglasses frames you've selected.
That's especially true if you were astute enough to pick out luxury designer eyewear that plays up you features and creates a flirty look.
You wear your eyeglasses everywhere, and they are often the first thing someone may notice about you. It's only natural, because person look at each other's eyes. Your frames tell whether you are serious, sexy or silly. They can add whimsy or drama to your overall style, based on material, color and frame style.
So why not frame your eyes with a little drama by selecting luxurious Dolce & Gabbana optical frames?
Keep up with voguish trends with a pair of Dolce & Gabbana optical frames like the Dolce & Gabbana DG 3218 Sicilian Taste Eyeglasses 501 in black. The plastic frames have a slight cat eye shape, creating a sultry and dramatic look designed to accent the eyes better than any eyeliner ever could. The result is riveting.
The Sicilian design in these elegant frames gives you clean and simple lines that play up your best features while serving as a pair of premiere prescription eyeglasses that will improve your visual acuity.
If you think the black of the eyeglass frames might be too much to wear in your pair of eyeglasses, these stunning Dolce & Gabbana frames are also available in violet. The softer color is a tremendous complement for green eyes, but the rich amethyst acetate can make any eyes stand out. You may find that you love flirting in these glasses because of their over the top style.
While some black acetate eyeglasses frames tend to overpower smaller faces because of thick and heavy set plastic edges set against delicate bone structures, these sleek Dolce & Gabbana optical frames are tempered on either side with flat gold metal arms that add contemporary style to an already popular trend. They also feature a larger frame that appears more delicate. The result is a sophisticated look you'll find yourself wearing everywhere, and turning heads as you go.
People will definitely pay attention to these eyeglasses you've selected. They're big, bold and dramatic.
With luxury optical eyewear frames like these, you're going to want to show off not only your eyes but also your good taste in eyeglasses. Go ahead. Spread a little drama with the Dolce & Gabbana optical frames.