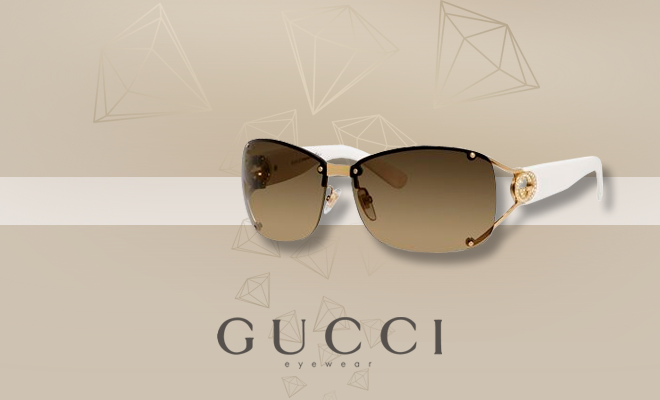 Trends
Gucci Metal Frame Sunglasses are the Gold Standard
By
|
You don't have to be Kim Kardashian to know luxury when you see it, and it doesn't take a wealthy presidential candidate to understand gold standard quality.
The gold standard by which all things are measured sets the bar high for luxury and opulence. Upscale products and accessories can find it tough to meet a standard like that, but the Gucci metal frame sunglasses are at the top of the gold standard list.
Savvy style-watchers recognize Gucci sunglasses immediately because of their contemporary designs and obvious quality. They are distinctly different from the competition in the luxury eyewear industry.
The Gucci metal frame sunglasses, in particular, create a unique and light look, and they give the wearer a definite advantage in looking like a million bucks. These sophisticated sunglasses please even the most discriminating and fashion-conscious  trendsetters because of Gucci's attention every detail in their designs.
Gucci creates masterpieces of metal in their frames, working with daring creations and precision craftsmanship. Aviator and shield-style frames are some of their most popular sunglasses, but you'll also find rectangle and usually shaped frames, too. Regardless of the Gucci frame style you select, you'll be wearing provocative sunglasses that define who you are as a person.
That's all the more reason to plan your Gucci sunglasses collection for each of the seasons.
In fact, if you're already planning your winter wardrobe, and you should be, you'll want to consider must-have gold standard accessories, like the Gucci GG 2820 Sunglasses 0BQB in gold.  Brown gradient lenses fit against a gold frame that is smiles on the bottom and triangulates from the outside edges of the lenses to the iconic Gucci logo. Embedded with crystals, the logo separates the gold metal from white acetate temporal arms.
These Gucci metal frame sunglasses will have you thinking of winter days and winter white, snow-filled weekends and the pleasure of après-ski activities, as well as the bright sun on short winter days. You'll revel in their luxury and enjoy wearing these sunglasses each chance you get.
You are not limited to white, though, for the accent color. Gucci 2820 sunglasses also come in other temporal arm color choices.
No matter which Gucci sunglasses you select, you'll be wearing not only the gold standard in luxury eyewear, but all the glamour and style of a Kardashian.
The best thing about gold standard luxury is that it doesn't have to come at great expense, at least not when you buy your Gucci metal frame sunglasses from Designer Optics