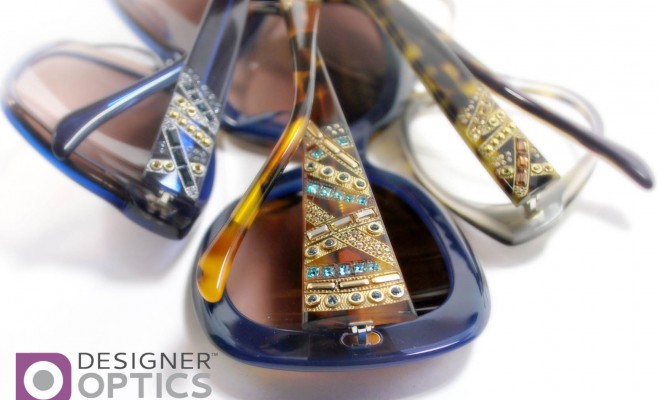 News
Great Eyewear is all About the Details
By
|
Great Eyewear is all About the Details
Your choices in eyewear today have never been greater, thanks to new styles made possible through new technologies.
When you decide on your next pair of sunglasses or optical eyewear, you'll have to decide if you prefer metal, plastic or cellulose containing natural fibers for additional strength. You'll also have to select the frame style and color you want, as well as what lens options are right for you.
It's no easy task to find the right pair of eyeglasses or sunglasses.
One of the greatest decisions you'll make is about the temporal arms of your new eyeglasses. While plain frames and temporal arms can provide the right fashion statement, there may be times that you want more.
Look no further than frames with intricate patterns full of color.
If you like to add exotic or fine patterns to your wardrobe, Bobby Brown showcases fashionable prints that accessorize.
Kate Spade gives you fresh and delightful colors and prints in frames that will be a profound accent piece.
Jimmy Choo juxtaposes complementary colors that create stunning looks designed to turn heads when you walk into a room.
Are you looking for more than color or pattern? Then turn next to the design of your temporal arms on your eyewear frames. Explore some of the newly designed temporal arms for a fashion-forward look that is as unique as you are.
If the enduring classic look is one you love, consider Coach for temporal arms made of heavy curb chain or beadchain.
Looking for something more contemporary? Then check out Tom Ford for dramatic ombre colors that create a flattering focal point on your face.
For the days when you must have high drama and glamour, Dolce & Gabbana gives you temporal arms with stylish metal inlays.
If less drama is more you, Liz Claiborne offers metal arms stylishly yet subtly twisted for feminine intrigue.
Gucci gives you stylized temporal arms whose corners draw back from the frames to wrap around the famous "double G" logo before it meets a wide plastic arm.
The list doesn't end there. Many of your favorite designers are incorporating not just color or temporal arm styling, but also meaningful inlays of metal, crystals, rubber and other materials. You can even find optical eyewear and sunglasses with interchangeable temporal arms so that you can mix and match your frames with their arms.
Advances in the manufacturing of optical eyewear and sunglasses have given high-end fashion designers the opportunity to take style to a new level. You can take your fashion to a new level, too, by taking advantage of the details in today's great eyewear.