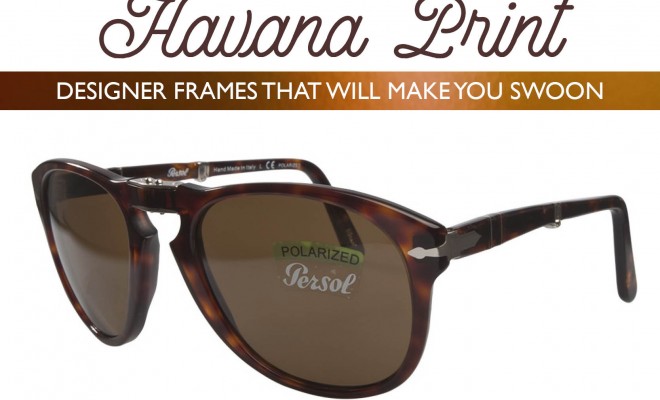 Trends
Havana Print Designer Frames That Will Make You Swoon
By
|
Havana Print Designer Frames That Will Make You Swoon
Sooner or later you are going to want a pair.
Many people begin their eyeglasses or sunglasses collections with the standard wire framed aviators but eventually add frames of plastic. The plastic frames give way to hand-rolled acetate, and it's then that you begin yearning for a pair of Havana print designer frames — the kind that will make you swoon.
Havana print is a re-interpreted and more modern version of the widely popular tortoise shell print. A true Havana print is lighter and richer in color than tortoise shell, so look for warm brown, rich honey gold and burnished amber in the frames. The print should give the appearance of depth, as though the colors have been frozen in various depths along the frames.
Dark Havana more closely imitates tortoiseshell.
Only hand rolled acetate can achieve the most spectacular designs and nuances of color in this print. That's why you need designer luxury sunglasses and optical eyewear frames —  anything else is likely a common coating of otherwise clear plastic frames.
Begin your search for these highly coveted frames by exploring the collections of Ralph Lauren and Persol, to name two popular design houses.
While Ralph Lauren designer eyewear gives you plenty of choices in Havana print designer frames, their Ralph Lauren RL 8107Q Sunglasses 500313 are rectangle frames crafted in a sumptuous dark Havana print that may remind you of the vintage prints worn by Hollywood's A-list of stars. The temporal arms fasten to the frames by way of a golden stirrup fastened with a small leather strap.
Not all Havana prints are this dark, however.
The Persol PO 3012V Eyeglasses 1018 Havana optical frames give you that honey color that glows with warmth. These frames combine gold and amber in a creamy print that appears fluid. The lighter tones catch the light and create a soft effect around the eyes.
At either temporal corner sits a silver hinge that fastens to the frames; the silver makes a stunning contrast to the golden Havana frames.
Havana print designer frames are some of the most versatile eyewear frames for style-minded men and women. No other pattern transitions from the office to leisure the way these frames can.
Those designer pop culture print Ray Bans are fantastic for casual wear, and solid neutral colors function well in any business setting, but the Havana print designer frames are true lifestyle frames because you can wear them with anything, anywhere. Your greatest accessory will not be to dressy or too casual, so you don't have to worry about having the wrong pair of sunglasses or eyeglasses with you.
Havana print designer frames are always the right choice.