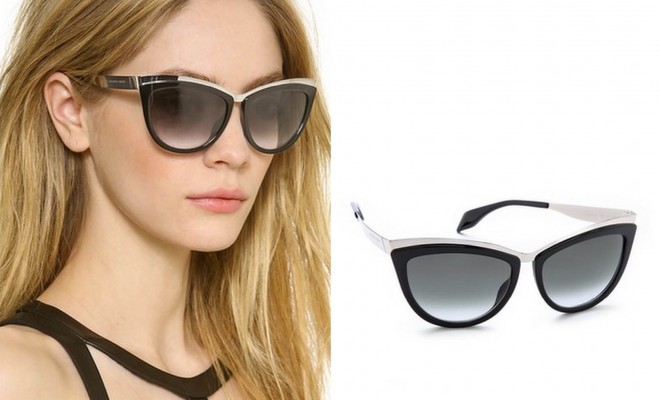 Trends
Hot Cat Eye Sunglasses That Make You Look Cool
By
|
Hot Cat Eye Sunglasses That Make You Look Cool
Exotic and sultry, the cat's eye is all about mysteriousness and seduction. Look closely at a feline's eyes, and you'll see perfection in each eye's black lines, as though drawn by a make up artist of infinite skill. The effect is beguiling.
It's small wonder that the cat's eye is recreated today with eyeliner or with cat eye sunglasses that create the same mesmerizing effect.
Cat eye sunglasses sweep upward at the temporal corners, creating a sexy slant in the frames, and they gained a huge popular following among men and especially women in the 1950s and 1960s.
Vixens and glamour queens of the silver screen donned cat eye sunglasses to create allure. Think Elizabeth Taylor, Marilyn Monroe, Audrey Hepburn and Grace Kelly, to name just a few legends who adored their cat eye sunglasses.
You don't have to reach back fifty or more years to get in on a little coquettish fun.
Today's luxury cat eye sunglasses are trendier and more beautiful than ever.
Feminine and Wily
Kate Spade's Shira Sunglasses in rose jade allow to to combine two fashion trends — this season's favorite color and cat eye frames. The semi-rimless frames are flanked with a narrow edge of gold wire at the boot of the lenses, and the slanted brow is a dappled pink that blends right into temporal arms of the same color.
For classic style with retro leanings, try the Valentino V712S sunglasses in black. The matte black finish will set off your eyes and create a mysterious allure about you. These sunglasses say you are fashion-savvy and trend-conscientious, but that you also have a sense of timelessness about you.
Bold and Sassy
The Jimmy Choo Nita Sunglasses, with frames craft of nude leather in a snakeskin pattern, are distinctively contradictive. Their soft color complements the face and yet the leather commands attention.
Ralph Lauren gives you a simple pair of sunglasses in the traditional cat eye shape and then tips the temporal corners in silver, much like a Western belt buckle, with the RL 8112 sunglasses in Havana. You'll look bold, relaxed and confident in these sunglasses.
The Versace 4269 Sunglasses in black feature a wide, definitive upswept brow line accented with silver studs. These are not demure frames – they are tough-chick looking sunglasses that go equally well with a Harley softail or a Hawker 4000 private jet.
Whether you prefer sunglasses that are feminine and wily or bold and sassy, cat eye frames allow you to create the playful, feminine look you want.
How many pairs of cat eye sunglasses are in your wardrobe?