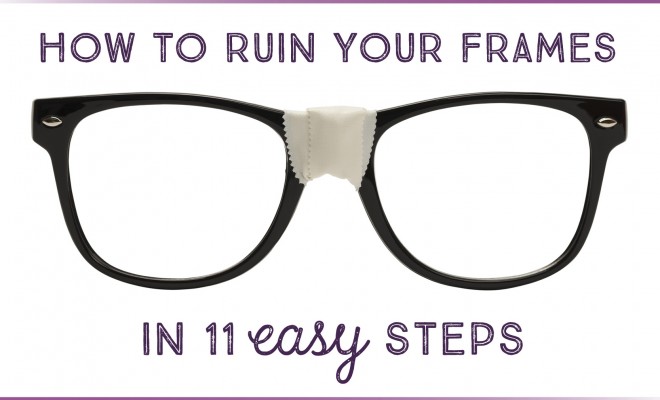 Posts
How to Ruin Your Eyeglasses Frames in 11 Easy Steps
By
|
How to Ruin Your Eyeglasses Frames in 11 Easy Steps
You adore your new eyeglass frames.
No wonder – you spent a long time searching for the right frames. Whether you selected high-end designer frames or practical frames that deliver functionality, you want your frames to last a long time. With proper care, they will.
If you want to replace your frames more quickly, here are eleven ways to ruin them.
Leave your frames in the car where temps may reach more than 120 degrees. Solar energy creates heat that gets trapped in your vehicle, and that heat can rise in as little as twenty minutes.
Never clean your frames. Salts and oils from your skin can collect on the parts on your frames that frequently touch the skin.
Use chemicals to clean your frames. If you are intent on diminishing the protective coating on your frames, wipe your frames with strong cleaning solutions instead of mild soap and water.
Wear your eyeglasses or sunglasses on top of your head. Using your eyewear as a headband may distort the shape of your frames.
Take off your eyewear with one hand. Pulling your glasses off with one hand creates distortion, too, and you may discover that your frames don't fit as well as they once did.
Push your eyewear up on your nose with a single finger, especially if the frames are not silver in color. The constant touching of the frames may not only weaken the bridge but also alter the color.
Wear your optical eyewear or sunglasses while spraying hair spray, cologne, perfume, or bug sprays.
Avoid getting your frames adjusted to fit your face. A less than perfect fit will have you constantly adjusting your frames by pushing and pulling them into position.
Never keep your eyewear in its case when you are not wearing your eyeglasses. Instead, toss them on the dash of your car, throw them in your gym bag or toss them in your desk drawer.
Fall asleep with your frames on your face so you'll wake up ready to go the next day.
Adjust the arm screws until the frames creak and the lenses pop out.
Of course, if you do the OPPOSITE of everything written here, you'll probably own your optical eyewear and sunglasses for a long time.
Your quality eyewear is meant to last as long as you want to keep using your frames. Take the time to clean your frames properly, put them on and take them off with two hands, and store them properly, and your frames will be around for a long time.