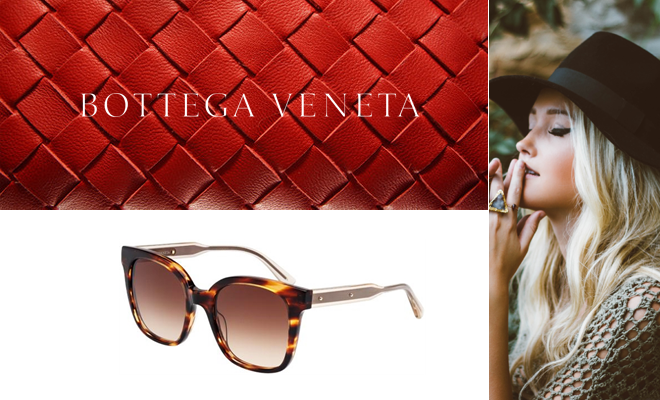 Trends
Italian Style, International Appeal from Bottega Veneta Luxury Eyewear
By
|
The penultimate in style and fashion comes from premiere design houses in Italy. This is where designers and craftsmen collaborate of the finer details and nuances of design as a concept comes together in the form of a product.
This is where Bottega Veneta luxury eyewear is born.
When you own any Bottega Venetta product, whether it's a piece of clothing, a home accessory or premier eyewear, you'll enjoy being part of an exclusive group of fans who know quality as well as this Italian designer, but choose not to flaunt it with flashy logos and signature prints of their initials.
The designers at Bottega Veneta assert that you have your own signature style; their products enhance what you have without advertising you loyalty to a brand. Your brand loyalty comes from your satisfaction with the product.
Luxury is more than just an idea with Bottega Veneta luxury eyewear; it is very real.
The men's and women's sunglasses from this well-respected design house have found international appeal thanks to their tantalizing design and unparalleled construction using only the finest materials.
You'll find contemporary designs in premium cellulose acetate, leather, metal and titanium. Square-framed sunglasses like the Bottega Veneta BV0003S Sunglasses 11Z7Z622 Avana are a bold Havana print of rich browns, amber and honey. Temporal arms of metal and clear acetate flank the frames, creating a discerning look of impeccable taste and fashion.
There are many Avana styles in the BV0003S product line from which to choose, including darker tortoiseshell prints, neutral grey and fiery reds. For those who prefer a more traditional fames the style is available in black.
The optical eyewear of Bottega Veneta luxury eyewear is equally impressive.
You may select a style similar to that of your BV0003S sunglasses; these models are known as the BV00040 series. You have the same impeccable style of square frames crafted in havana prints or solid black.
Of course, Bottega Veneta offers more than square frames. You signature may be best with round frames or slightly drawn cat eye frames. Whichever frames you select, Bottega Veneta gives you outstanding craftsmanship with versatile design in every pair of temporal arms.
Eyewear from Bottega Veneta often bears the intricate weave for which they are well known. Look along the temporal arms for this distinctive design. If you'd like something a little less ostentatious, there are also  smooth-side temporal arms as well.
This designer eyewear doesn't stand out in a crowd because of its name; it stands out because of its intrepid design and craftsmanship.
Bottega Veneta Luxury Eyewear doesn't define your world. It is your world.