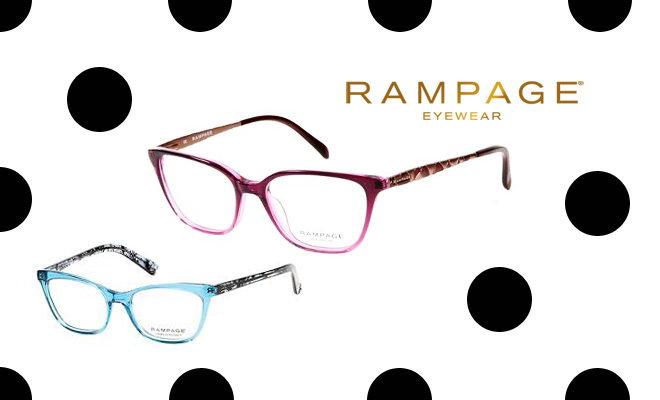 Trends
Two-Tone Prescription Eyewear Frames Are All the Ram-page
By
|
Young, contemporary women still flaunt their ombre hair, their two-tone locks selectively colored to create a contrast that is both striking and flattering. While the current trend is to wear the darker color on top and the lighter color on the bottom, there's no sign of ombre hair fading from fashion just yet.
Who doesn't love interesting color combinations?
The same is true of ombre colored clothing and accessories. Done right, ombre can look fresh and inviting because the juxtaposition of the two colors creates visual interest.
Your accessories can have that same two-tone effect, especially with two-tone prescription eyewear from Rampage.
Optical eyewear like the Rampage RA 0175 eyeglasses N85 N85 give you a taste of the blended colors. The square frames have a deep fuchsia color at the top of the frame, and the color fades to a carnation pink along the lower edge of the frame.
Rampage luxury eyewear offers other insane color combinations as well, with two-toned prescription eyewear frames that will make you stand out in any crowd. You'll find frames with one color on the outside and another color on the inside, and there are also frames accented by temporal arms of a different color.
The Rampage RA 0198 frames are trendy cat eye frames with colors reminiscent of 1950s glam. You can enjoy tangerine or aqua frames flanked by havana style prints in a variety of alternate color combinations on the temporal arms.
Some of the designs from Rampage combine neutral colors like rich coffee brown on the outside with light and airy greens on the inside of the frames. The two-toned prescription eyewear frame is enhanced with tiny crystal embellishments on the side corners of the temporal arms in the Rampage RA 0184 eyeglasses. Other color combinations include black and brown.
Smart women with a sophisticated sense of style love color. There's something about being able to experiment and play with color that women love, whether they have the opportunity to flaunt a new hair color, mix and match color combinations in clothing or use accessories to add fun color to the overall look.
Rampage two-toned prescription eyewear frames have been designed to afford the modern, younger women an opportunity to add color to what may be an otherwise traditional wardrobe of classic styles and colors.
Whether you opt for ombre frames or two-toned jewels that augment any style, Rampage understand the importance of accessorizing playfully with color.
Go ahead and treat yourself to a popular trend; two-toned prescription eyewear frames are all literally the Rampage.