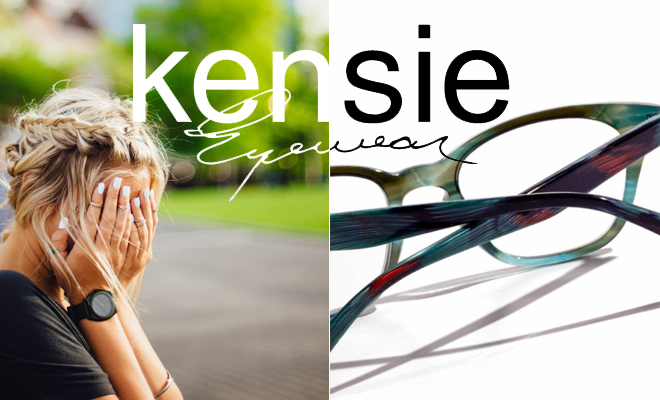 Trends
Kensie Optical Eyewear for Girls Gets Cute
By
|
When it's time to get cute, it's time to get Kensie.
Kensie optical eyewear brings you the adorable prescription eyewear that will create a fresh and attractive focal point when you are wearing your eyeglasses.
Your Kensie frames are made of these materials
Kensie knows that you need choices in your Kensie optical eyewear frames, and that's what you get.
Enjoy plastic frames during the warm summer months and try the metal frames during cooler climates. When you opt for Kensie frames, you'll love how affordable they are. The great prices of these frames means that you can have a couple of pairs of eyeglasses for your vision needs.
Shapes and colors that define your style
Kensie optical eyewear frames come in a variety of cute shapes so that you can flirt with sexy cat eyes, go on adventures with bold aviators and channel your inner studious bookworm with rectangle frames.
Kensie eyewear offers you seven frame choices, and the decisions for style don't stop there. You have a plethora of colors combinations and prints from which to choose. For example, Kensie gives you a wide range of pastels like the Kensie Adore eyeglasses in peach or the Kensie Bloom eyeglasses in pink, and bolder colors like the Kensie Amazing eyeglasses in red or blue.
If your preference is for something a bit more traditional, Kensie optical eyewear has that, too. You can get Havana-style eyewear like the Kensie Bold eyeglasses in honey. Their light amber colored frames are offset with darker temporal arms for a look that is classic and refined.
Kenzie eyewear has no limit to their creatively cute designs; you have hundreds of frames from which to choose.
Don't forget your sunnies
A girl's gotta have some great sunnies in addition to her prescription eyewear, and Kensie doesn't disappoint.
Discover how the taupe Kensie Tell Me round sunglasses frames speak to your Bohemian self, and the Kensie Retro Sun sunglasses will make you feel like a Hollywood glamour star from the 1950s.
Go ahead and take the plunge with fabulous oversized sunglasses frames that dress up every mood, whether you are hanging with your BFF, sitting poolside or spending the afternoon hiking back trails.
You'll love these sunglasses as much as you do your prescription eyeglasses.
Kensie eyewear adds that extra level of cuteness to your style, and the optical eyeglasses (and sunglasses) choices available to you will make you seem like a true fashion maven, savvy in selecting style and accessorizing like a pro.
With Kensie optical eyewear, even a limited budget has access to unlimited luxury.