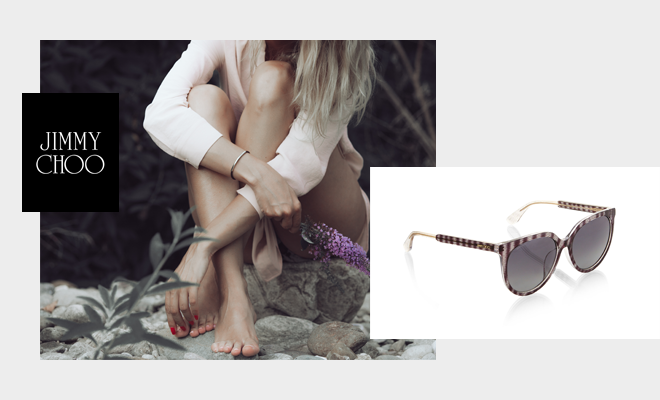 Trends
The Wild World of Jimmy Choo Reece Sunglasses
By
|
The exotic call of the wild is as far away as your next pairs of Jimmy Choos — sunglasses, that is.
Sure you love your aviators, and the teacup sunglasses from this designer are trendy, but for the wildest seduction tool in sunglasses frames ever, it's time to try the Jimmy Choo Reece sunglasses.
These fabulous frames are more than a pair of sunglasses; the Jimmy Choo Reese sunglasses are an attitude. You'll feel as striking as you look in them.
The Reece look
The Jimmy Choo JHC Reece sunglasses OLXA in striped glitter brown will make you think of the patterned fur of a jungle cat. There's just enough sparkle to be sophisticated without being glitzy.
If the idea of a cat print doesn't appeal to your wild side, how about black and white zebra stripes? You may have met your match with the Jimmy Choo JCH Reece Sunglasses 0LWZ in zebra glitter black. They are fun sunglasses that suggest you don;t mind kicking it up a little.
Your selection of Jimmy Choo Reece sunglasses isn't limited to wild animals found in the jungles, veldts and savannahs. Choo has looked to ocean for more inspiration.
Frames like the Jimmy Choo JCH Reece Sunglasses 0LXP Striped Glitter Blue will have you thinking of mermaids and other sea life with their vertical black and white stripes and blue glitter finish. The frame pattern connives along each temporal arm until the arms end in a thinner and more narrow side before curling into temporal guards. Tipped in blue, the guards give a nod to the blue lenses in the frame.
Why it works
The Jimmy Choose Reece sunglasses create the sultry, wild look of simmering sex appeal in several ways.
Not only is there an abundance of exotic print, but the finish has been dusted with glitter, making the print glisten.  The colors of these frames are similar to that found on wild jungle and sea life animals.
You also get spectacular oversized designer frames that attract attention because of their modified oval design. The gray gradient lenses are the right choice for most outdoor activities, and the luxury acetate is built to last a long time.
Beyond the jungle
What's even better is that you Jimmy Choo Reece sunglasses coordinate with other Reece accessories, like clutch bags. It doesn't matter if your clutch is lack, snakeskin or metallic glitter, it will complement your sunglasses selection.
Get serious about seduction with Jimmy Choo Reece Sunglasses. There no better time to step into the wild and step out like an animal.