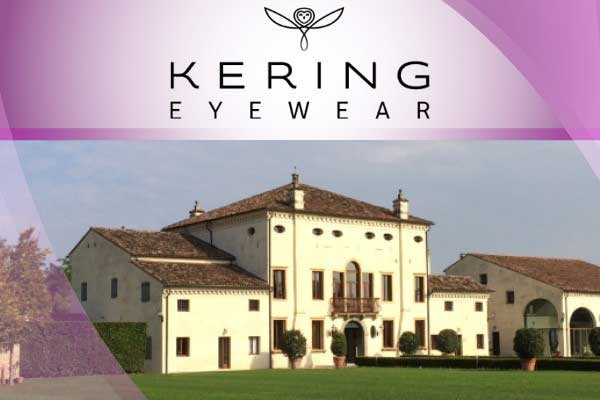 News
Kering Eyewear Debuts With Plans on Being a Top Contender in the Fashion Eyewear Market
By
|
On June 30th the new Kering Eyewear officially launched their first eyeglass collection at the exclusive Palazzo Grassi in Venice. The collection, named "Collezione Uno", had something for everyone featuring luxury and sport & lifestyle looks. This is a bold move for the company, who formerly were exclusive designers and manufacturers for top of the line brands, working with the Safilo group.
Last September, Kering made a deal that terminated its long standing relationship licensing agreement with Safilo and made its eyewear division exclusively in-house. This new division, Kering Eyewear, is led by former Safilo CEO Roberto Vedovetto, an innovative mind in eyewear design, manufacture and marketing.
What's in it for Kering?
A recent report published by Exane BNP Paribas describes this move as an "eyewear revolution". Demand for luxury eyewear in large markets like China is declining, as the lure of exclusivity declined to overexposure. By bringing their eyewear line in-house, Kering is able to continue building its brand as an exclusive eyewear company while focusing its designs to appeal to a few core luxury retailers, such as Gucci.
According to a press release issued by Kering last year, their overall objective with this daring move is to better support the brands they serve by accelerating their growth in the eyewear market. The plan is to still leverage the unique appeal that each one has, and stay aligned with the specific brands strategy and goals.
As fashion eyewear is a luxury born out of a real need rather than desire, the growth potential for any company who focuses on this market is significant. Eyewear is often an accessory that a person has to wear, creating a customer base that is continually growing and evolving. Plus, the consumer tastes are vast, allowing for Kering to work with brands who specialize in certain categories, further expanding on their options to increase their bottom line.
With this move, Kering will now have more control over direct sales of their eyeglass products, which inevitably should grow their profits. Now, with the plans moving forward rapidly, all that is left is to see how well the new eyeglass collection sells when it becomes available to retailers.
The Kering Group
Kering eyewear is just a small division of a parent group, which is an international leader in developing apparel and accessories. Their focus is on both luxury brands and sport & lifestyle, designing, manufacturing and marketing for labels such as Gucci, Stella McCartney, Puma and Cobra. Although they are a worldwide corporation, the Kering Group is still primarily family-controlled.
All of the Kering group designs are manufactured and sold under guise of other well established brands. They are an industry favorite when it comes to the development of fashion products that appeal to everyone both in style and budget.
Like the future of Kering Eyewear, we must wait and see what the first collection brings to fashion eyewear. Although revealed last month, it will become available in stores starting in November.