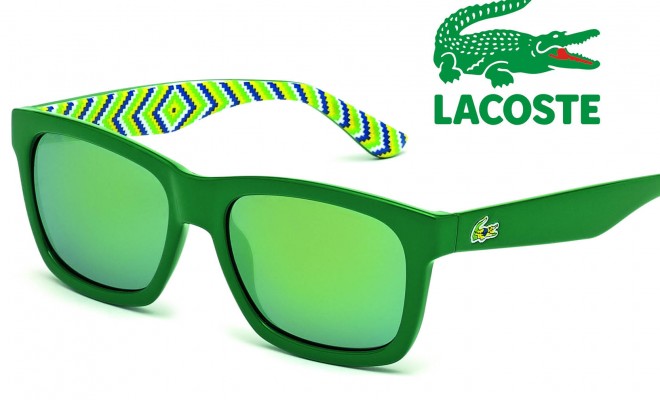 Trends
Lacoste Square Sunglasses to Make You Green with Envy
By
|
Lacoste Square Sunglasses to Make You Green with Envy
Color psychologists will tell you that your choices in color say a good deal about who you are.
You may already know that green is the color worn most often by those who love nature. Muted shades of green has a calming effect, and brighter shades indicate growth.  Your predilection for wearing green also suggests that you are well-balanced individual who finds harmony in a world that others might think chaotic.
A square is the most basic geometric shape, consisting of four equal sides. Because of its symmetry, it's well-balanced, too.
What could be more sensible than combining green and geometric squares in your fashion accessories to give you a natural, well-balanced feeling? You can create that well-balanced effect by wearing Lacoste square sunglasses.
Lacoste is a well-known French fashion house that provides luxury goods to consumers with discriminating tastes, and their eyewear does not disappoint. With hundreds of optical eyewear and sunglasses frames in a variety of shapes, color and materials, you'll find plenty of frames to fit your needs and personal preferences.
You may find the Lacoste square sunglasses, however, innately satisfying because of the balance they bring to your look.
For example, the Lacoste L740S Sunglasses 315 are an earthy green, redolent of the richness of nature. The olive green plastic frames have a print finish on the front and smooth solid-colored olive green temporal arms that have been imprinted with the Lacoste name in white. The same white outlines the edges of the frames and the underside of the arms.
These Lacoste square sunglasses are both chic and casual, perfect for you outdoor lifestyle. They are also available in black or brown.
More vibrant Lacoste square sunglasses can be found in boldly colored frames like the Lacoste L683S Sunglasses 003 in black and green. This isn't just any green, however, it's a phosphorescent green that may remind you of the Northern lights or neon green.
You may first notice only the black frames and temporal arms, but on the inside lies the translucent bright green that brings a splash of color to what would otherwise be ho-hum sunglasses. Blue lenses and textured temporal arms each bearing the iconic Lacoste crocodile complete the look.
Other Lacoste square sunglasses include rugged styles like the L633S frames featuring a green and yellow camo print on the temporal arms.
Lacoste offers plenty of other styles of green sunglasses as well. Choose from other shapes like the round, rectangle, aviator and even cat eye when you need to get your green on.
You don't have to be green with envy. You just have to order your Lacoste square sunglasses to complement your lifestyle.