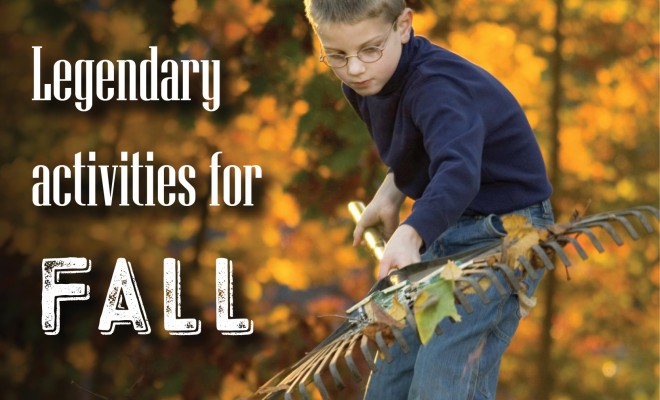 Posts
Legendary Activities to Do in the Fall
By
|
Legendary Activities to Do in the Fall
Just as the days are getting shorter, you may want to catch as much time outside that you can. The cooler temperature are a welcome change from the hot days of summer, and you may find yourself enjoying a variety of activities before winter sets in.
Here are one dozen fun ways to enjoy the fall season:
Go for a hike.
Because of cooler temperatures, there are fewer insects about, so you might enjoy taking a walk in the woods or across a trail. Be sure to take plenty of water and wear your sunglasses for protection.
Enjoy a drive.
With the beautiful changes in the leaves of trees, there's no better time to head out on the highway and go for a drive.
Take in a football game.
Donning your sunglasses and watching a live game can be an invigorating activity. Be sure to check out your local teams for some real fun!
Spend the weekend camping.
There's no better time to enjoy the great outdoors than camping in the fall-even if it's in your own backyard. The days are comfortable even without air conditioning, and the nights are chilly enough to make snuggling the perfect follow up activity.
Purchase a pot of mums for your front porch.
The gold, rust and maroon colors of these flowers as they bloom will bring autumn to your front door.
Play touch football.
Grab everyone on your street for an impromptu game. The fun lies in leaving your chores behind for just thirty minutes to play. Because it's touch football, kids and adults can play without worrying about getting hurt.
Rake leaves and jump in them.
Take a moment from the seriousness of preparing your lawn for the upcoming winter months. As soon as the pile of leaves is big enough, jump in!
Decorate pumpkins.
Hold a family decorating contest for the person most out of his/her gourd! If you carve your pumpkins, harvest, clean and bake the pumpkin seeds.
Go on a hayride.
The smell of sweet fresh hay on an autumn day as you ride through pastures or meadows can be a memorable experience.
Make a scarecrow and sit it outside.
Everyone can help build the scarecrow that will sit on your porch. Try stuffing old clothes with empty plastic grocery bags and a few wisps of hay at the cuffs of sleeves and jeans.
Relax by an outdoor fire with some hot apple cider.
Enjoy the end of the day with some good friends and good music.
Organize a food drive.
Doing for others can be a gratifying experience. Spend a Saturday afternoon collecting canned goods from neighbors for a food bank donation.
Regardless of how you celebrate the fall season, do it with new sunglasses or optical eyewear frames.