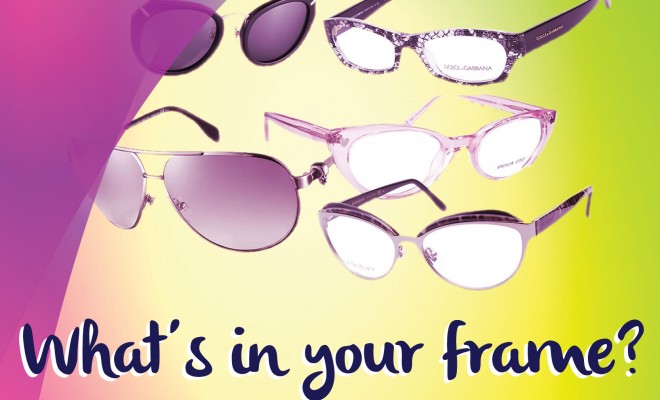 Posts
What's in Your Frame?
By
|
What's in Your Frame?
If you are ready to pick out the frames for your sunglasses or your optical eyewear, you may be wondering where to start.
Picking out the right frames begins by knowing what material you want for your eyewear. Your choice may be based on aesthetics, or it may be based on need, especially if you are allergic to certain materials.
Most frames are made of metal or plastic.
Metal
The first eyeglasses frames were metal because this material proved the most responsive and malleable for different shapes of lenses. Metal was also durable.
While you might think that silver or gold would be perfect metals for frames, these metals tend to be not only expensive, but also heavy. You are more likely to find silver or gold plate accents on frames. Instead, look for alloys or aluminum.
Alloys – Frames made of metal alloys include beryllium (less expensive than titanium), monel (popular anti-corrosive material) titanium and stainless steel (both of which are hypo-allergenic) . One of the newer trends in metal is flexon, which is made from titanium. Its unique properties include a resiliency that allows it to return to its original shape, and flexon is hypo-allergenic.
Aluminum – This incredibly lightweight material can be found in the frames of the most high-end designers; the look of these frames is distinct, and they are non-corrosive.
Plastic
The most variety in texture and color can be found in plastic lenses. Plastics can be manufactured in vivid hues, bold prints and demure shades. The variety is endless. There are several types of plastics available for your eyewear and fashion needs.
Cellulose acetate – this material combines plastic with plant fibers such as wood, silk or wool for greater strength than plastic alone. This plastic is sometimes referred to as zylonite or zyl.
Cellulose acetate propionate – this plastic is made from nylon and its hypoallergenic properties may make these frames the perfect choice for anyone with incredibly sensitive skin.
Plastic frames are a favorite among eyeglasses wearers who prefer lightweight frames, and these frames are hypo-allergenic.
Unique Materials
Some frames are individually crafted. These frames may be made from bone, shell, horn or wood, and they are one-of-a–kind pieces.
You can find frames from Ray Ban that include leather or velvet, and quite a few other designers always include something exotic in their eyewear collection each year. If over-the-top-bling is your style, check out the Swarovski frames with stunning crystal decorations at the temporal corners. Look for bits of horn, gemstones and precious metal overlays on designer frames.
If you have an idea of the frame material that will best serve your needs, selecting the right eyewear may be much easier for you because you can eliminate the options that won't work and concentrate instead on the right material for your needs.