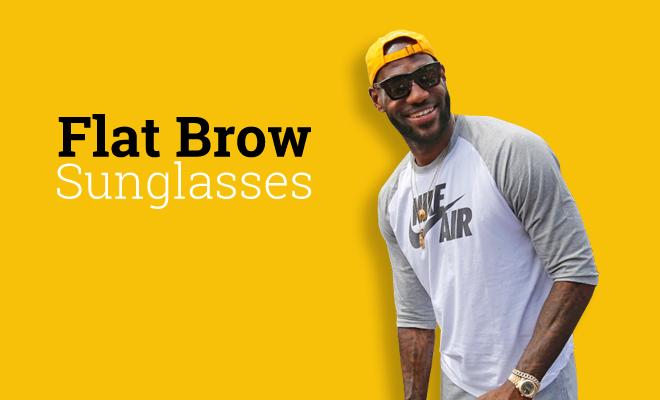 People
The Look of Lebron James in Flat Brow Sunglasses
By
|
Cleveland Cavaliers basketball player Lebron James is a man of distinguished tastes and savvy business deals. His ultimate goal is to own his own pro basketball team, and he may indeed do just that.
Other players in the NBA call James "the face of the NBA," but there's much more to that easily recognizable face than just basketball.
Lebron James knows how to optimize his looks in flat brow sunglasses and optical eyewear frames. These handsome frames are oversized works of artistic design. Although they may have square frames, pilot style frames or rectangle frames, the brow line on each pair of these glasses is the same: it's squared off along the top, almost in a flat line, for a retro look that shows no signs of going out of style.
The look is distinguished and solemn, making Lebron James look wise beyond his years. These distinct sunglasses sit well under a hat, making both accessories look as though they were made for each other.
Are you ready to create your own distinguished, retro flat brow sunglasses look? Try these luxury eyewear designers for your sunglasses needs.
Maui Jim
Look for the Maui Jim Flat Island sunglasses with the blue stripe. The acetate frames are the color of the ocean, and the flat brow  sunglasses will remind you of a time when"Surf's Up" meant drop everything and get to the beach.
Yves St. Laurent
Tap into vintage style with the Saint Laurent SL 101F sunglasses in havana. These oversized acetate frames feature the flat brow sunglasses look that will give you retro style, French fashion and supreme elegance.
Marc by Marc Jacobs
No one combines youthful fashion with retro style better than Marc by Marc Jacobs. The trendy designer knows how to make a statement with design and color, and nowhere is this more apparent than in the Marc By Marc Jacobs MMJ 456 Sunglasses in transparent blue. The oversized beauties are black along the flat brow line and have transparent blue temporal arms for a vibrant vintage look.
Dolce & Gabbana
If contemporary style aviators are more your thing, you can find just the right pair of flat brow sunglasses in the Dolce & Gabbana DG 2146 Sunglasses 117987 in black. These acetate frames have the flat brow line similar to the sunglasses Lebron James wears, and they also bear a masculine looking double bridge.
Other designers of luxury flat brow sunglasses like Tom Ford and Celine also take on the flat brow sunglasses trend, reinterpreting it for contemporary times.
Choosing to look distinguished like Lebron James has never been easier with these designers in your court.