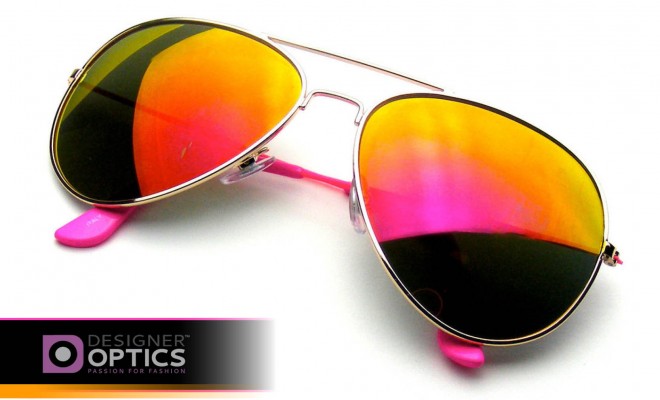 Trends
Luxury Designer Sunglasses That Add Color to Your Life
By
|
Luxury Designer Sunglasses That Add Color to Your Life
Warmer weather heralds a return to the bright colors of spring and summer. With Mother Nature leading the way in dressing fields, forests and fauna is glorious color, you too are likely thinking about adding color to your life.
Whether you are planning a new wardrobe or just adding a few brightly colored throw pillows as a room accent, be sure to accent your own life with color. One quick way to add the color you want is through luxury designer sunglasses.
Unfortunately, though, not everyone sees color the same way. Those brightly colored frames and lenses you love may be hardly noticed by one out of every twelve people. They are not ignoring you; they are colorblind.
The company EnChroma has invented a lens that will help those who are color blind see their world in the vivid hues of the rainbow —  something they have never seen before. According to the company, these specially designed lenses will help four out of five colorblind people see in color.
The EnChroma lenses can be fitted to your favorite pair of optical eyewear or sunglasses. All you have to do is pick out your frames.
If you are looking to show off a little color, consider getting your frames and your lenses in the kinds of vibrant colors that would make a chameleon stop in its tracks.
Luxury designer sunglasses today are made in a variety of colors and hues, including everything pastel to streaming neon shades that stand out in any location.
Nike – The same sport colors you wear in clothing and shoes from Nike is available in luxury designer sunglasses.
Dragon – As unafraid as this designer is to experiment with new hinge and frames styles, Dragon also plays well with color in their frames and their lenses.
Ray Ban – One of the first companies to add color to their iconic Wayfarer frames in the 80s, Ray Ban continues to maximize the sensual palette of those yearning for rich color.
The makers of luxury designer sunglasses know that the lenses you wear are every bit as important as the frames. Not only do the lens colors enhance your vision and provide greater clarity among shapes, they also look fantastic as they establish you mood and tone for the day. Try some of the choices at Diane von Furstenberg (DVF) or Tag Heuer.
Add color to your upcoming fashion seasons, either through adaptive technology that fits your frames or by sporting some of the intense colors averrable in luxury designer sunglasses that will brighten not only your day but also that of the people around you.