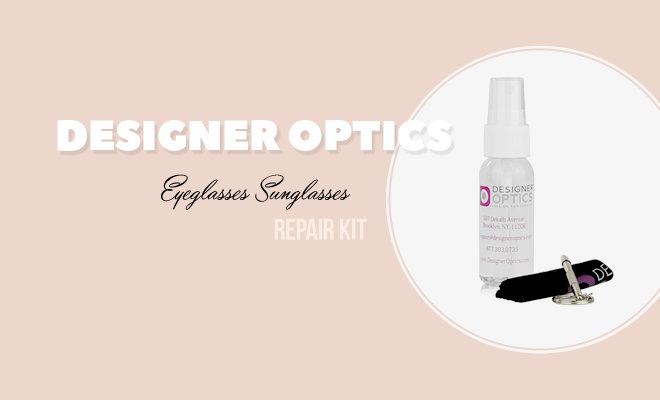 Posts
Maintaining Your Passion for Fashion with the Designer Optics Eyeglasses Sunglasses Repair Kit
By
|
Don't you hate it when it happens?
You put on your eyeglasses or sunglasses like you've done hundreds of times, only to find that they don't fit. For some reason, they seem a little off. Perhaps it's the arms that's wobbly, or the temporal corner feels a bit loose.
It's completely normal for the screws to loosen or the hinges to open a bit more than you like. It comes with use. The good news is that even designer luxury eyeglasses and sunglasses can usually be repaired and put back into service right away.
Correcting the issue ought to be an easy fix, and it is, if you have the right equipment.
Ah, but there's the rub, so to speak. So often, when your eyeglasses or sunglasses need a quick repair, it seems like the only things you have handy are a coin or your fingernail. You know the coin is too thick to be of use and your fingernail is too thin.                                        But you've tried them both anyway, haven't you?
Would it be much better, and easier on both your frames and your fingernails, if you had a repair kit handy? Of course. The problem, though, is that many wearers of prescription eyewear and sunglasses forgot to have that repair kit at the ready.
We understand what it's like to need to repair your frames now. With the Designer Optics eyeglasses-sunglasses repair kit, you will have everything at your fingertips to take care of your repair and wear your eyeglass or sunglasses immediately.
The Designer Optics eyeglasses-sunglasses repair kit gives you three screwdrivers with the right type of head. There is a flat head, a Phillips and hex screwdriver, so you'll have the right tool whether your Ralph Lauren's are loose or your Vera Wangs are wobbly.
Your Designer Optics eyeglasses-sunglasses repair kit comes with more than the screwdrivers. Whether you are an expert or a DIYer, everyone tends to get smudges on the lenses, especially as you are repairing the frames. Your first impulse might be to spray a bit of window cleaning solution on them — please don't! The chemicals can do more harm than good for your lenses and the frames should you get the solution on them, too.
Instead use our cleaning solution, along with the microfiber cloth that comes in the kit.
We want you to enjoy your eyewear for a long time, and having the right repair kit handy can help you do just that.
In fact, you might want to order a couple of these kits so that you can maintain your passion for fashion with the Designer Optics eyeglasses-sunglasses repair kit.