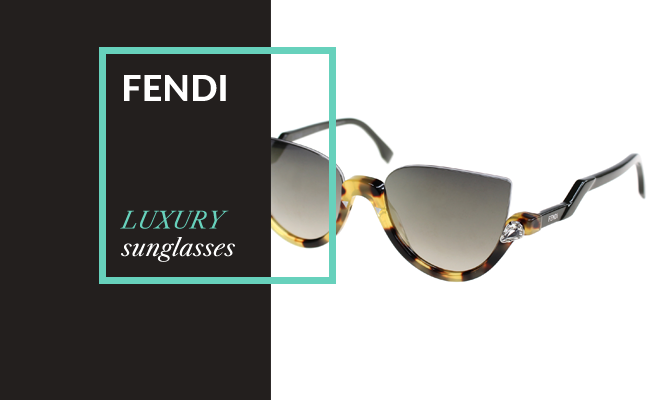 Trends
Make Your Entrance in Fendi 0138 Luxury Sunglasses
By
|
With nine decades of experience in the elite couture fashion industry, it's no wonder that luxury Italian designer Fendi also leads in presenting exclusive designs that stand out in a crowd.
Fendi frames feature the kinds of designs that can get you noticed when you make your entrance, anywhere, anytime.
These fabulous couture frames include traditional designs like rectangular acetate frames in black crystal and silver detailing along the inside of the frames and on the temporal arms. While Fendi can and does produce dumber looking eyewear frames, this design house also knows how to rock your world with avant-garde designs that make a statement as you make your entrance.
The luxurious Fendi FD 0138 Sunglasses 0N75 announce not only your arrival but also your good taste in premier designer eyewear. These particular frames are offered in havana spotted green. You can count on the innovative design catching everyone's eye immediately. That's because the semi-rimmed sunglasses literally turn the tables on frame design.
The cat eye lenses rest atop the sumptuous hand-rolled acetate frames cupping them at the bottom. These half frames are a honey colored havana print that will catch the sunlight and look light and fresh. They have to look light to pair well with the grey-gold cat eye lenses that seem to float above them.
The temporal arms, a solid opaque forest green, zigzag back toward the ear to create a daring look that is sexy and cutting edge.
The extravagant Fendi 0138 sunglasses are available in two other color combinations.
Your first choice is Havana and shiny black. These frames consist of a more muted havana print set in has tones and flanked by zigzagging black temporal arms. The complementary brown gradient cat eye lenses in these help to sharpen contrast outdoors, and you'll want to wear these exotic sunglasses when you are near water and land.
If you've been following the sunglasses trends this year for black acetate frames, you know that you've got to have at least one pair of the shades in your fashion collection. The Fendi 0138 luxury sunglasses cater to this need with frames and temporal arms in shiny black.
The blue beige lenses of these frames are the right choice for misty days, hazy situation and when you will be out in the snow and ice. The blue helps to filter the rays refracted by water droplets and ice crystals.
No matter which of the Fendi 0138 luxury sunglasses you choose as your eyewear fashion accessory, you're getting the kind of eyewear that marks you as someone who knows a superior product by the glamour it creates.
Go ahead. Indulge yourself. You know you are going to turn heads when you make your entrance in your Fendi 0138 luxury sunglasses.