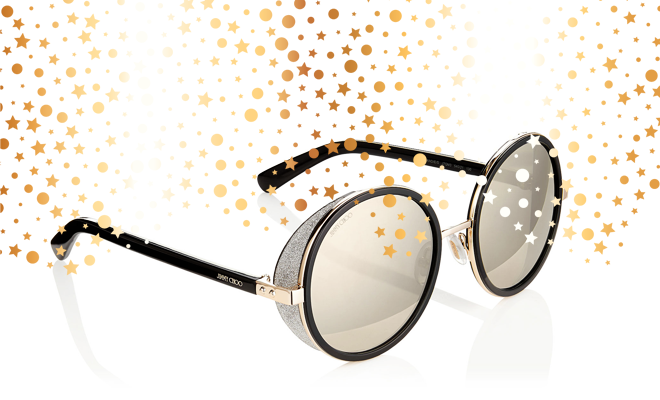 Trends
Metal and Acetate Combo Sunglasses Frames Dominate Fall and Winter Fashion
By
|
Sometimes picking the right pair of sunnies can be a difficult decision, even if you have favorite designers you rely on all the time.
You love your acetate sunglasses frames because they are lightweight and easy to care for. They also give you fantastic choices in color and print styles. Your metal frames are just as wonderful. Equally light, they have adjustable notepads that keep the glasses from slipping off your face, but the designs are sometimes not everything you'd like them to be.
What if you could combine what you adore about metal and acetate frames, making one fabulous pair of sunglasses? That's where metal and acetate combo sunglasses frames come in, just in time for the next season's fashion trends.
Metal and acetate combo sunglasses frames give you the best of both worlds. No wonder they are THE choice for outdoor eye protection and fashion this fall and winter.
These aren't your tradition combo frames. Instead, think steampunk meets haute couture. The offspring of this union gives you incredible choices in metal and acetate combination sunglasses frames. You'll want to wear these sunnies all the time because they are such gorgeous works of art.
Metal and acetate combo sunglasses frames rely on curved lines, surprising design, the juxtaposition of shapes and rich jewel-tone colors to create a look you'll enjoy wearing.
Get the look with Jimmy Choo JCH Andie Sunglasses 0J7G in rose gold and brown. These oval modified frames present themselves in the Victorian steampunk style of metal goggles trimmed in Havana print acetate and flanked on either side with similar acetate temporal arms. The look is trendy, futuristic and feminine.
Finding shape and style mash-ups in metal and acetate combo sunglasses frames is fairly easy if you know where to look. You can count on designers like Prada and Versace to give you exactly what you need to stay in step with this hot new trend in sunglasses.
The Prada Cinema sunglasses take the classic cat eye sharp and morph it into thinker lenses of acetate held on with narrow metal temporal arms. Across the two lenses on frame arcs a metal double bridge — something like what you might find on a pair of aviator glasses.
Luxury designers like Versace deliver oversized sunnies in hand-rolled acetate that have been adorned with metal embellishments and fitted with unique lens colors such as gradient violet and red.
Regardless of the designer you select for your sunglasses needs, one thing is for sure. You'll turn heads in your metal and acetate combo sunglasses frames.