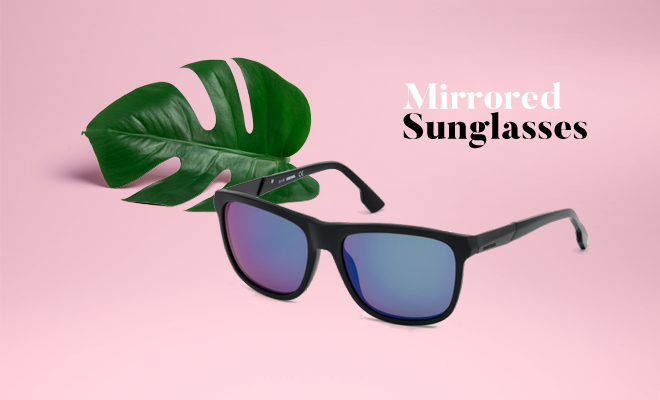 Trends
Mirrored Sunglasses That Will Make You Reflect
By
|
Mirrored Sunglasses That Will Make You Reflect
"Mirror, mirror on the wall . . . "
This famous line offered an insight into the psyche of a villainous storybook character who focused entirely on her looks.
The mirror responded honestly. That's what mirrors do, but sometimes human interpretation makes the communication unclear.
Mirrors represent self-awareness. How many times have you walked past a mirror, a window front or anything else reflective and taken a look? It's only natural to want to check your appearance. Mirrors also symbolize self-deception; it's entirely possible for the viewer to see something that is not there.
Regardless of the symbolism of the mirror, mirrored sunglasses can be some of the most practical eyewear accessories you can wear. Mirrored sunglasses are favorites of people who find themselves in conditions where there is ice, snow, and high altitudes. Even sandy areas call for mirrored sunglasses.
That's because the lenses block as much as 60% of the sun's light as it reflects off the surfaces in these conditions. What's even better is that the lenses can be treated with a variety of tints appropriate to specific conditions.
Oranges and reds are best for snowy conditions, blues are for misty or drizzly weather and water. Purple tints make the green of a golf course more vivid and distinct.
The mirrored lenses can be housed in frames of metal or of acetate. You'll often find mirrored lenses on metal aviator or pilot style sunglasses. Modern designs include mirrored lenses in square or rectangle acetate frames, making them a great choice for wearing at the lake or the beach.
For example, mirrored sunglasses like the DIESEL DL 0187 Sunglasses 02X in matte black combine acetate frames with blue mirrored lenses. These are rugged looking sunglasses designed to cut through the bright light around the water and reflect your good taste. Ray Ban offers a similar style with coppery red mirrored lenses.
For a little fun, try the Versace 2161 sunglasses, with the frameless shield style lenses in mirrored gold. They are a basic pilot shape, with the classic teardrop design this style is known for, and these sunnies feature a double bridge, all executed with a single mirrored lens. They are perfect to wear when sipping a hot beverage outdoors when you're surrounded by bright sunshine bouncing off the snow.
Thankfully, there's no chance of mistaking the good looks and fun fashion of mirrored sunglasses. They seem to be a great choice for everyday wear, too.
Stars like Olivia Palermo, Hillary Duff, Jessica Alba, Alessandra Ambrosio and Rita Oro have all rocked mirrored sunglasses. Men have gotten plenty of facetime, too, with their mirrored sunglasses. Brad Pitt, Zac Efron and Jason Derulo have all been spotted wearing the fun fashion accessories.
Which mirrored sunglasses are right for you? Now that's something to reflect on!