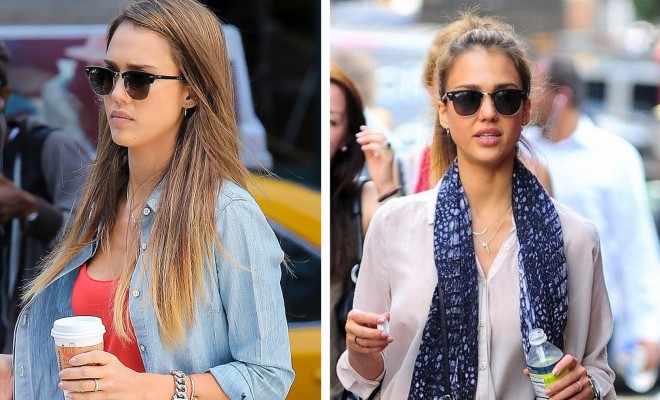 People
The Ray Ban Clubmasters Worn by the Stars
By
|
The Ray Ban Clubmasters Worn by the Stars
Every actor knows that versatility is a skill to be developed and mastered. Being able to fit into the role of a character as easily as others put on a glove is something that only the best actors and actresses can pull off as they transition from role to role.
Sometimes other artists, like musicians and writers can switch performance style as well, almost as easily as they change fashions.
Like the stars and artists who establish performance standards and set trends in fashion Ray Ban brand eyewear has figured out how to master the art of versatility, and the style that is the most versatile is the Ray Ban Clubmasters style.
The Ray Ban Clubmasters series was first made immensely popular by Audrey Hepburn in her role in Breakfast in Tiffany's, and since then a legion of stars and other notables have worn these popular frames from Ray Ban. You've seen this eyewear style onJeff Goldblum, Malcolm X and David Beckham.
Many celebrities and stars recognize that the Ray Ban Clubmasters are some of the most unique and fashion flexible eyewear available. This instantly recognizable style works well whether you need prescription optical eyewear or you just want a pair of tremendous sunglasses to capture your personality.
Clubmasters are available in both thin and thick bridge styles, and each style can help you achieve a distinctly different look.
Jonah Hill wears Ray Ban Clubmasters optical eyewear similar to the Ray Ban RX 5154 Clubmaster Eyeglasses 2000 in black. This frames feature the iconic bloodline of the Clubmaster series, and the wire rims and bridge are silver, but they are also available in gold, like those worn by Hill. The Clubmasters optical eyewear is classically simple in design. It is also available in patterned styles, like Havana.
You'll find that Clubmasters sunglasses are incredibly varied, with classic options of black frames frames to the more contemporary Ray Ban RB 3507 Clubmaster Aluminum Sunglasses 139/85 in bronze and copper. These beauties are just as light as their bronze and copper color suggests because they are made from aluminum, which is a light yet strong alloy designed for long wear. the copper lenses assist you with vision in the brightest of light.
The stars who have been spotted in Ray Ban Clubmasters sunglasses include Robert Pattison, Beyonce, Keegan Allen, Selena Gomez, Seth Rogan, Misha Barton and David Beckham, to name just a few.
Ray Ban Clubmaster optical eyewear and sunglasses prove their versatility day in and day out. Like the stars who wear them, you too can enjoy the flexibility in fashion they afford you.