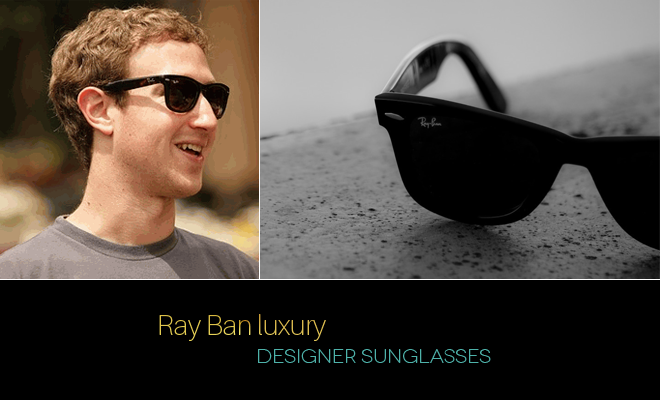 People
The Ray Ban Luxury Designer Sunglasses Mark Zuckerberg Isn't Wearing
By
|
Marc Zuckerberg rarely wears aviator style Ray Ban luxury designer sunglasses, and you probably won't see him in round frames, either. In fact, Zuckerberg has usually been spotted wearing square or trapezoid frames for his eye protection needs.
Small wonder, considering that his augmented reality eyewear may be made of the same frame shape – squared off lenses set in bright colors of plastic material.
The Zuckerberg-Facebook augmented reality project is an ambitious endeavor because the eyeglasses required for participating in this initiative will combine augmented and virtual reality for the ultimate social experience. The anticipated technology must merge headsets with eyewear that can easily be worn anywhere. The square frames are a natural choice for the design.
In the meantime, though, Zuckerberg wears Ray Ban luxury designer sunglasses like yours.
Why these frames look so good
Zuckerberg knows that square frames fit elongated faces rather well. The frames offset the length of the face and create interest while providing expansive eye coverage. The interesting thing about square frames, though, is that they look good on everyone.
The shape is a well-thought out choice for augmented reality eyewear as much as it is for his own personal style. Zuckerberg knows you are more likely to wear what looks good on you; after all, that's what he himself wears, so he also understands what it means to have ample lens coverage — or screen size.
Some of Zuckerberg's favorite Ray Ban luxury designer sunglasses have included the iconic Wayfarers – an edgy style that rocks traditional frame styles of sun protection by creating more angular trapezoidal shapes. They are similar to square frames, just angled ever so slightly.
Wayfarers are the hallmark accessory of trendsetters and creatives who are unafraid to take the road less traveled, and that's often exactly where Auber-cool millennial Zuckerberg finds himself.
You might find yourself to be traveling a similar path where you set the trends in your industry. People look to you for creative ideas and next opportunities. Accent your rakish style with Ray Ban Wayfarers.
A standard go-to pair of Ray Ban luxury designer sunglasses is the traditional Ray Ban RB 2140 Original Wayfarer Sunglasses 901/58 in black, and Zuckerberg dons these shades as commonly as you wear jeans and a t-shirt. For upgraded luxury, try the Ray Ban RB 2140QM Wayfarer Leather Sunglasses 1152N5.
These Ray Ban Wayfarers won't get you any closer to owning a pair of augmented reality eyeglasses, but you'll still get to rock you inner millennial genius with the Ray Ban luxury designer sunglasses Mark Zuckerberg does wear.