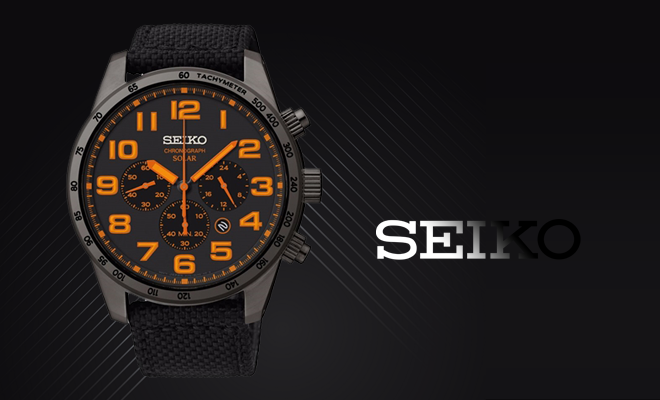 Posts
Seiko Men's Watches Mark the Passage of Time
By
|
The talented watchmakers from Seiko pride themselves on staying ahead of trends and technology since they began in this industry in 1881.
Since then, Seiko craftsmanship and design has evolved into exquisite artistry that can be seen in five Seiko Watch Collections: the Astron, the Grand Seiko, the Presage, the Premier and the Prospex. Each collection features a particular style of watches designed to meet and even exceed your lifestyle needs.
What's consistent about the watches in each of the collections is that Seiko meticulously marks the passage of time with precision craftsmanship learned through more than one hundred years of watchmaking skill and devotion.
This precision comes from the movement inside their watches.
Spring Drive Seiko Men's Watches
If you are tired of the planned obsolescence that comes from the contemporary trend of creating a minimum viable product, you'll be delighted to know that Seiko may have created the closest thing to a forever watch. The internal spring drive keeps fastidiously accurate time — within one second.
The spring drive watches are some of the most hardy and long-lasting watches in any Seiko collection.
Kinetic Watches
Kinetic Seiko mens' watches collect energy from the movement of your wrist, no matter how big or minute that movement might be. The energy is stored in the watch's battery, and the benefit of this is that you never have to worry whether or not you wound your watch, and your watch will run almost indefinitely.
GPS Solar Watches
These trend-setting watches are all about the Seiko clean energy movement, and Seiko began this movement in the late 70s.
Having no need for battery replacements, Seiko solar watches store their renewable energy in the battery inside the watch. Solar energy for these watches comes not just from the sun, but from other light sources as well, making this Seiko watch collection very long-lasting and eco-friendly.
The rugged Seiko Core SSC233 Solar Watch offers chronograph precision and a power charge that will last for six months. Water resistant to 100 meters, this watch can handle any adventure you throw at it. The matte black ion finish makes this watch a good choice if you are looking for a tactical timepiece.
The latest improvement in the Seiko solar watch is the addition of GPS. If you find yourself frequently traveling across multiple time zones, this watch will reset itself to the local time.
You can set the watch on airplane mode while you are en route to your destination.
Regardless of the movement you select in your Seiko watch, you'll find that Seiko men's watches are just as perfect for professional wear as they are for outdoor lifestyles. Best of all, they'll stay with you for a long, long time.
Perfection comes from Seiko. Good taste in watches comes from you.