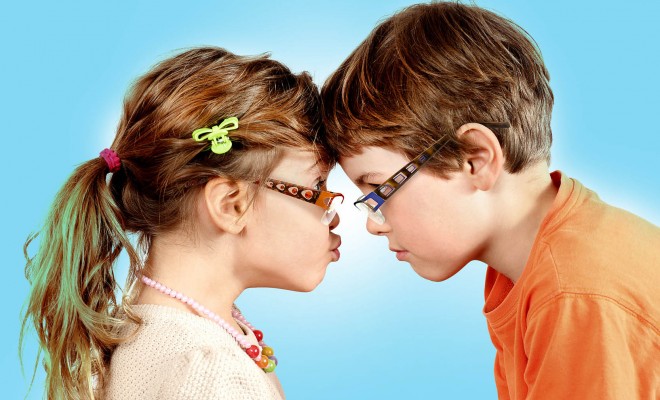 People
Seriously Tough Children's Eyeglasses for Kid's Play
By
|
Seriously Tough Children's Eyeglasses for Kid's Play
Kids are supposed to play rough. It's not only a normal part of growing up; it's how kids learn verbal and nonverbal communication skills. Kids are also better off if they get outside to run, tumble, whirl and have a great time.
Unfortunately, children's eyeglasses are not always better off as a result of these gymnastic maneuvers. How many times have you admonished, "BE CAREFUL WITH YOUR –", only to hear the all too familiar crunch or snap of their eyeglasses breaking, again?
When looking for children's eyeglasses, consider the frame first; what should it be made of?  Metal frames are more likely to stay on your child's nose because the nose pads will keep the frames from slipping down. This easily adjustable material seldom breaks, but it may trigger an allergic reaction, causing contact dermatitis.
Plastic frames are hypo-allergenic, and the material is light enough to be comfortable. The thicker the frames, the more durable they likely will be. Plastic frames tend to be a favorite of children because plastic frames come in almost every color imaginable.
Kids rarely take off their eyewear or put it on with two hands. For that reason alone, spring hinges may provide the best flexibility in children's eyeglasses. The springs allow the arms to flex beyond a ninety-degree angle and snap back in place. Unfortunately, spring hinges are more difficult to fix at home on the kitchen table; they really need the help of a professional.
Of course, you can also consider eyeglasses with standard hinges. It's a good thing they are easy to adjust, because rough play in them may require more adjusting on your part. Hingeless eyeglasses are an option as well.
It can be tough to find children's eyeglasses so great-looking that your kids will want to wear them, and yet have those same eyeglasses withstand the antics that go with childhood. Here are some of the designers you may wish to consider.
Juicy Couture – Fun lives here. This designer has devoted its attention to providing a variety of frames shapes is colors taken from the richest paints in a junior artist's palette. Girls especially will love the vibrant purples, reds and pinks.
Flexon – Your older children will appreciate the edgy styles and colors, such as tangerine and avocado, and you will appreciate the frame made of Flexon, which is an alloy that remembers its shape. These children's eyeglasses also have spring hinges for greater durability.
Ray Ban – A perennial favorite of adults and children, Ray Ban offers grown up style in bold primary colors for kids. Look for patterned temporal arms and youthful reinventions of classic designs.
Armed with this knowledge of children's eyewear, you can help your child find the perfect eyewear. When children's eyeglasses are as durable as they can be, you may find yourself yelling words of caution a bit less often, at least in regards to their eyewear.